Heart Failure with a Preserved Ejection Fraction
In our previous article, we talked all about heart failure with reduced ejection fraction (systolic heart failure). Now today we will speak about heart failure with preserved ejection fraction (HFpEF), also known formerly as diastolic heart failure.
This disease is caused by abnormal relaxation of the ventricles as well as poor compliance of the ventricles. Which leads to increase diastolic (resting) pressures and stiffness of the ventricles.1
This pressure backs up into the atria and furthermore into the lungs (on the left side), which reduces lung compliance leading to the signs and symptoms in which patients present. When this physiologic phenomenon worsens, or when stressors on the body occur, such as an emergent increase in blood pressure, compensatory mechanisms become overwhelmed, and pulmonary edema occurs.1
In the United States, around 5 million people have been diagnosed with heart failure, and almost one-half of these have preserved ejection fraction. The health care expenditures due to heart failure in 2013 totaled $30 billion!! Risk factors for HFpEF include female sex, older age, hypertension, obesity, tobacco abuse, atrial fibrillation, coronary artery disease, diabetes mellitus, and valvular heart disease.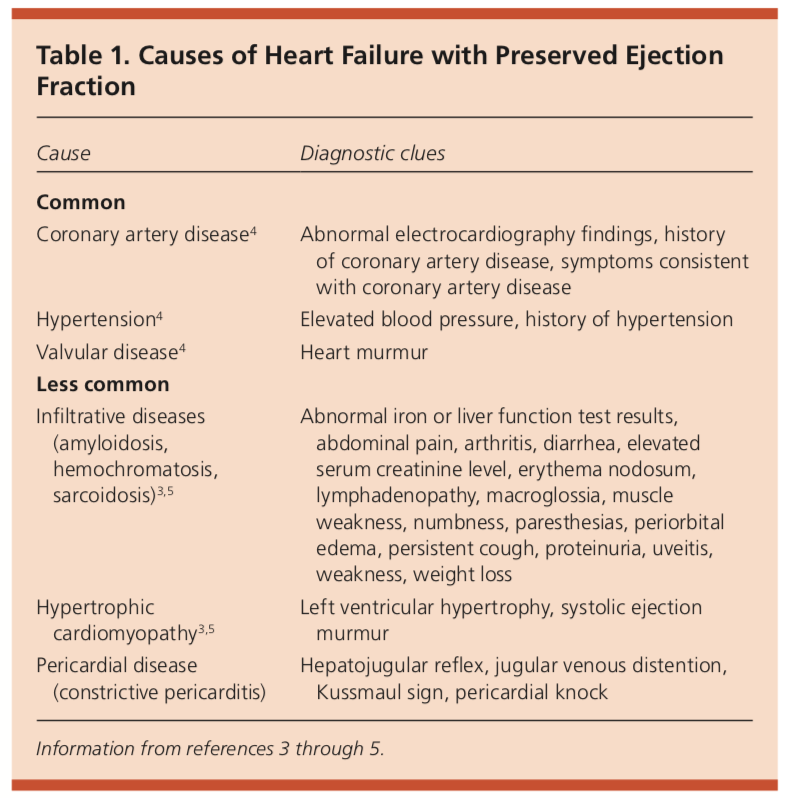 Diagnosing Heart Failure with a Preserved Ejection Fraction
Signs and symptoms of HFpEF may include dyspnea, weakness, fatigue, paroxysmal nocturnal dyspnea, edema, or orthopnea. A systematic review of heart failure with preserved ejection fraction found that if a patient has jugular venous distention, an S3 heart sound, and displaced apical pulse that the likelihood of heart failure is drastically increased.1
The diagnosis of heart failure with preserved ejection fraction requires clinical symptoms and signs of heart failure in addition to preserved ejection fraction and diastolic dysfunction seen on echocardiogram. Other findings on transthoracic echocardiogram that may be seen include an enlarged left ventricle, abnormal left atrial size, or the presence of valvular disease.
Another test which can aid in the diagnosis is the pro-BNP. The European Society of Cardiology and American College of Cardiology recommend a cutoff of 125 pg/mL on the pro-BNP. If the result is lower than this value, heart failure can be reliably ruled out in the primary care setting in low-risk patients.1
However, remember, just because you have an elevated pro-BNP, this does not guarantee a diagnosis of heart failure.
A systematic review found that a normal EKG reduced the likelihood of heart failure; however, a normal chest radiograph was less helpful in doing so. Neither EKG or chest radiograph significantly improved the accuracy of diagnosis when patients have a normal pro-BNP.1 However, EKG is important to get in patients with suspected heart failure to assess for left ventricular hypertrophy, myocardial ischemia, or abnormal heart rhythms.
Just like with HFrEF, the Framingham Criteria can aid in ruling in a diagnosis of HFpEF. However, this criterion should not be used in ruling out cases of heart failure. Additionally, there is another diagnostic criterion created by researchers from the Netherlands. This criterion was found to have great accuracy using a combination of clinical signs and symptoms along with a BNP result.1 A score of fewer than thirteen points can exclude heart failure in the primary care setting.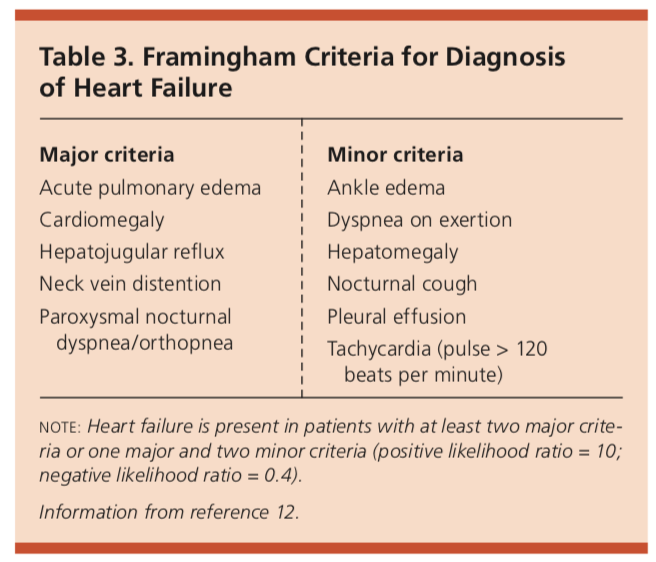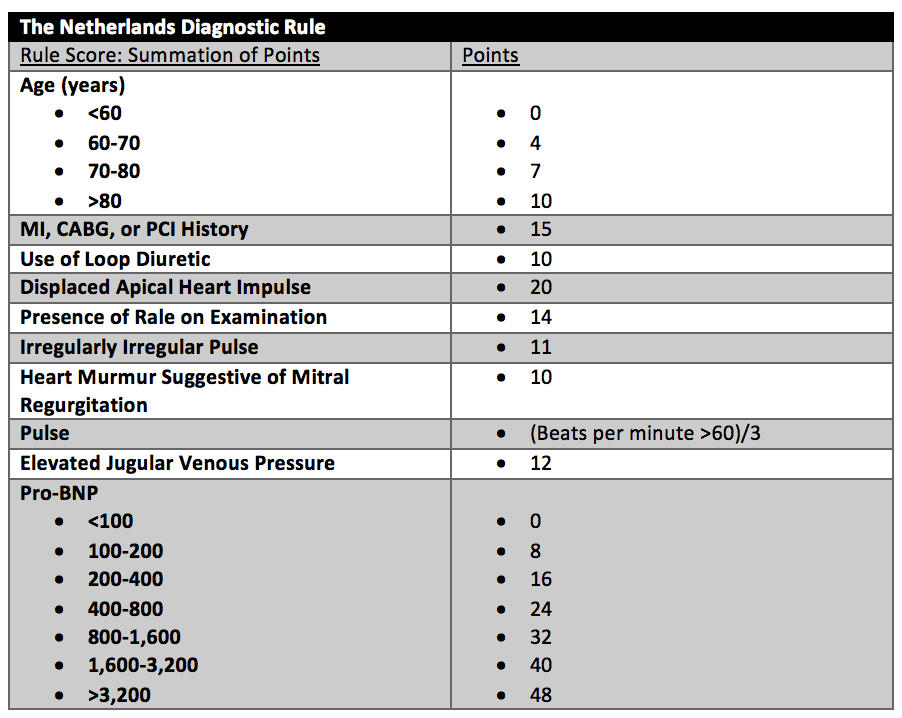 Regarding how to diagnose these patients in clinic, those presenting with suspicious symptoms of heart failure (S3 heart sound, jugular venous distension, displaced heart apical impulse) or who meet the Framingham or Netherlands criteria should have an echocardiogram completed.
For those who do not meet these criteria or do not have classic symptoms, but you are still concerned about heart failure, a pro-BNP or BNP should be completed, and if the BNP is greater than 35 pg/mL or the pro-BNP is greater than 125 pg/mL, the patient this should be referred for an echocardiogram.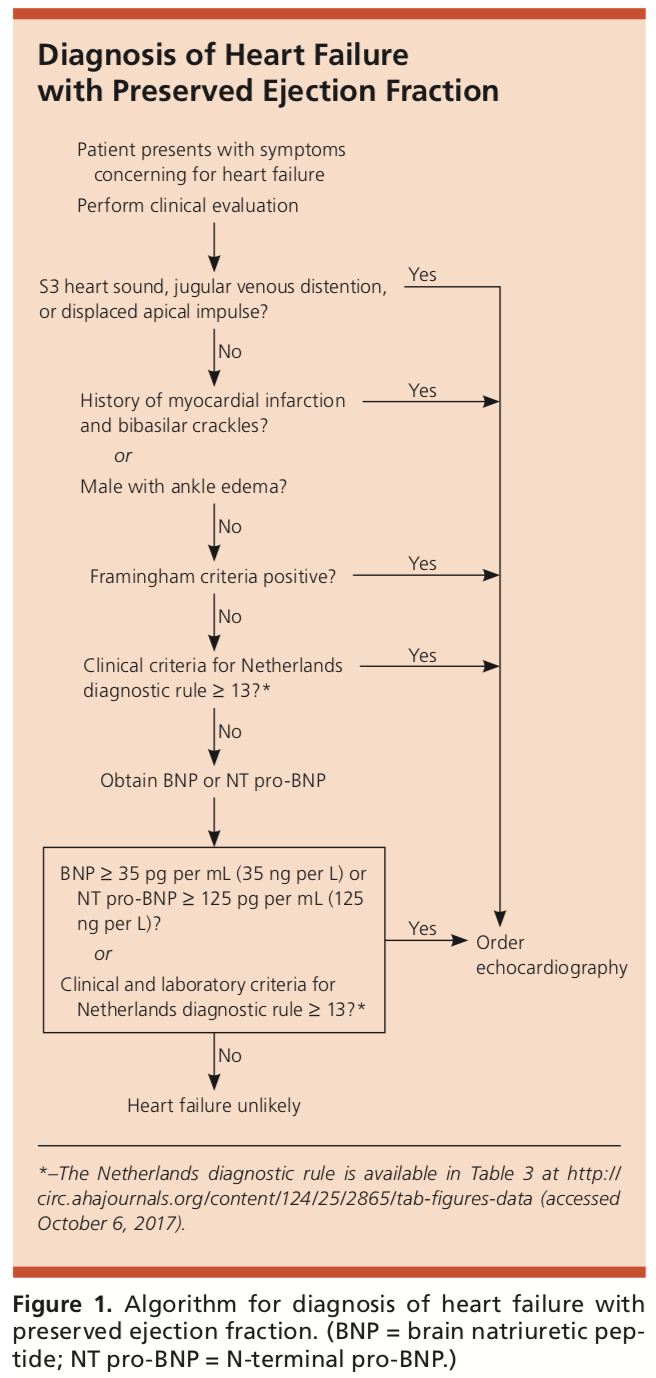 Medications for HFpEF
As opposed to HFrEF, there are not many randomized controlled trials on the treatment of HFpEF. The American Heart Association recommends therapy of HFpEF be based upon staging criteria and treatment of risk factors. They also recommend endurance and resistance exercise training for patients that have HFpEF to aid in the improvement of exercise capacity and diastolic heart function.1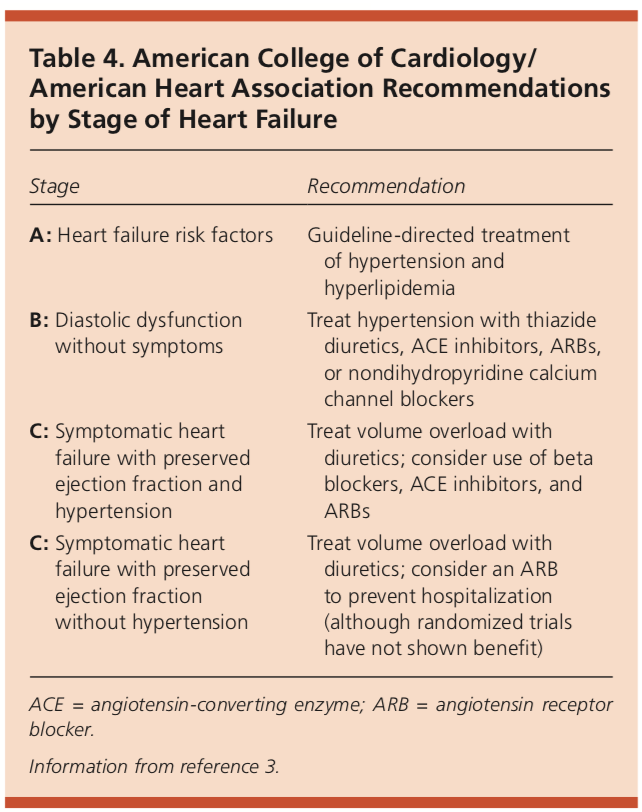 Trials have studied angiotensinogen receptor blockers (ARBs) in patients with heart failure with preserved ejection fraction. Two studies looked at candesartan and irbesartan showed no improvement in reduction of mortality or hospitalization. Another study found that there was no difference in the hospitalization rate or deaths in those treated with ARBs and actually noticed an increase in the rate of adverse events.1
A trial studying nebivolol in those older than 70 years with HFpEF showed no difference in mortality or hospitalizations. Additionally, a study looking at carvedilol found no difference in mortality or hospitalization rate either.1
A one-year trial looking at spironolactone and digoxin found no difference in the rate of hospitalization or mortality than those not taking these medications. Studies on isosorbide mononitrate found that patients on this medication had lower activity levels and fewer minutes of daily activity.
The only studies to show symptomatic improvement were five trials that showed that exercise training improved exercise tolerance, an increase six-minute walking distance, and quality of life.1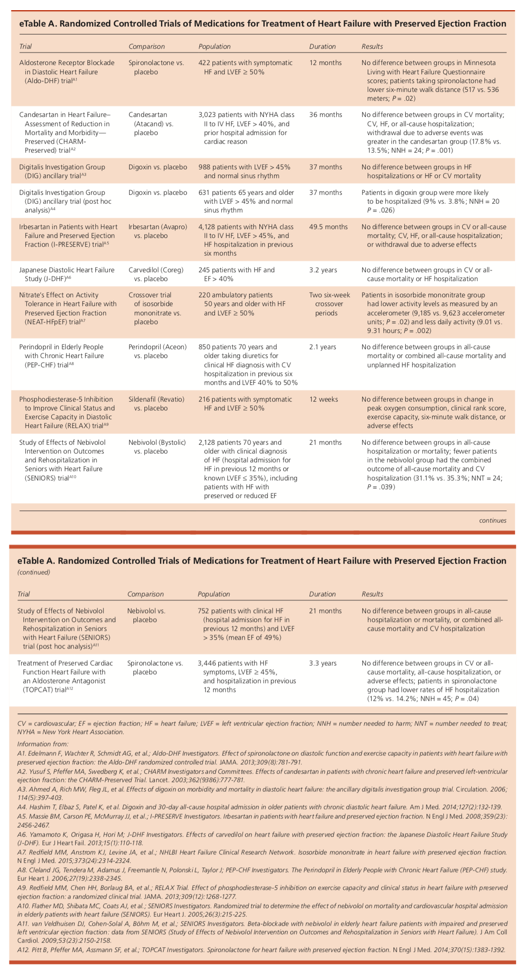 Overall, patients with HFpEF that have volume overload should be treated with diuretics. Other treatment should be based on the risk factors that they may have that are contributing to their disease, including hypertension, atrial fibrillation, hyperlipidemia, or coronary artery disease.
All patients with heart failure with preserved ejection fraction should be referred to cardiac rehabilitation as this has shown to improve quality of life and exercise ability.
Patients diagnosed with heart failure with preserved ejection fraction, no matter what severity, have an increased risk of mortality. Studies have revealed that in those that are asymptomatic after four years, 3.3 percent started becoming symptomatic and 23 percent had worsening of diastolic function of the heart. However, 9 percent had improved diastolic function of the heart.1
After the first hospitalization due to heart failure exacerbation, the mortality rate dramatically increases, with a one-year post-hospitalization mortality rate of 25 percent in patients older than 60 years, and a rate of 54 percent in those over 80 years of age.1
Factors that have been shown to predict a worse prognosis include higher BNP levels, diabetes, older age, history of myocardial infarction, history of COPD, reduced renal function, and presence of right ventricular remodeling.
Regarding the prognosis of HFrEF versus HFpEF, patients of the same age and sex showed that those with heart failure with preserved ejection fraction, in comparison to those with heart failure with reduced ejection fraction fare worse in regards to the mortality rates.1
I hope you have enjoyed and learned the in's and out's of heart failure from our two article series.
You can click here to learn about heart failure with a reduced ejection fraction.
Remember to comment and let us know what you want to read about. Our articles are for all of our supporters and readers, and the only way we know how to make things better for you all is by your feedback! Until next time!
Resources
Am Fam Physician. Heart Failure with Preserved Ejection Fraction: Diagnosis and Management. 2017;96(9):582-588. Copyright © 2017 American Academy of Family Physicians.

Am Fam Physician. Diagnosis and Evaluation of Heart Failure. 2012;85(12):1161-1168. Copyright © 2012 American Academy of Family Physicians.

American Heart Association. Circulation. The Diagnostic Value of Physical Examination and Additional Testing in Primary Care Patients with Suspected Heart Failure. Accessed: June 11, 2018.

UpToDate. Treatment and Prognosis of Heart Failure with Preserved Ejection Fraction. Accessed: June 11, 2018.
This article, blog, or podcast should not be used in any legal capacity whatsoever, including but not limited to establishing standard of care in a legal sense or as a basis of expert witness testimony. No guarantee is given regarding the accuracy of any statements or opinions made on the podcast or blog.