Lymphadenopathy
Enlarged lymph nodes can be a robust chief complaint to tackle. Numerous etiologies can present with lymphadenopathy, and the workup can be extensive. Today we will discuss etiologies, an approach to diagnosis, and potential treatment based on specific etiologies of lymphadenopathy.
Lymphadenopathy is considered to be abnormal if the size is greater than 1 centimeter or if there is an abnormal consistency (such as being matted, fixed, or hard). However, there are some additional circumstances where small lymph nodes should attract some concern, such as if lymphadenopathy is seen in the supraclavicular, popliteal, iliac, and epitrochlear regions that are greater than 5 mm in size.
Causes of Lymphadenopathy
In around 0.6 percent of cases of lymphadenopathy, the etiology remains unknown. However, only around 1.1 percent of these instances are caused by malignancy.1 Age is a risk factor for unexplained lymphadenopathy being related to cancer. In around 4 percent of patients 40 years and older, cancer is found to be the underlying cause, whereas if under 40 years of age, around 0.4% of cases are found to be due to malignant etiologies.1
Causes of lymphadenopathy can be remembered by the mnemonic, MIAMI. Malignancy, infection, autoimmune disease, miscellaneous causes, and iatrogenic causes.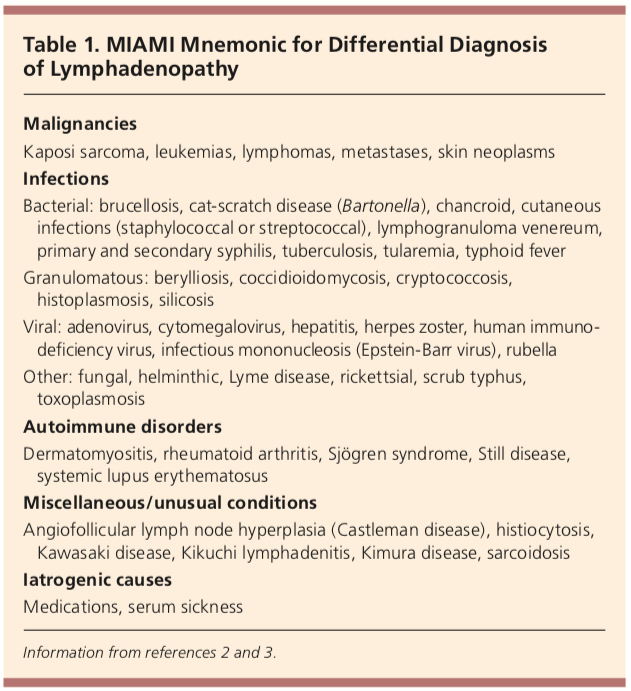 The History and Physical Exam
Just like every patient, start off with an appropriate history and physical examination. Often, the history and examination will aid in the identification of the reason for lymph node enlargement. Some important things to always ask about are how long the lymphadenopathy has been present, exposures, where the lymphadenopathy is located, and associated symptoms such as fever, night sweats, sore throat, nausea, vomiting, abdominal pain, unintended weight loss, high-risk sexual behaviors, exposure to any new animals, recent travel, joint pain, rash, or muscles soreness.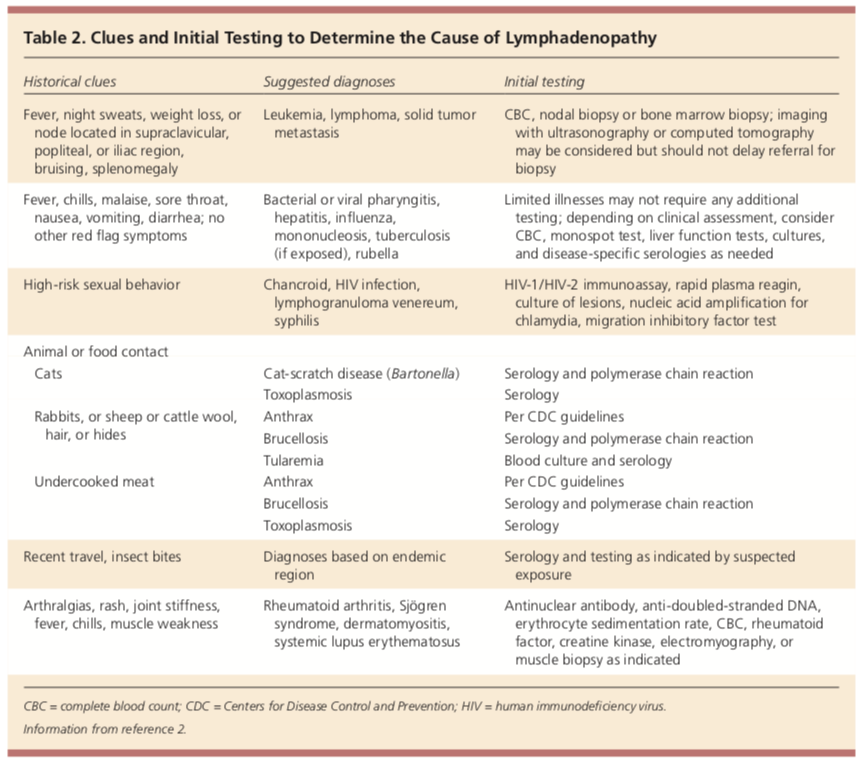 Environmental, travel, insect, and animal exposure should always be accounted for during evaluation. Infectious exposure and immunization status should be reconciled.
Other risk factors include tobacco use, UV radiation exposure, occupational history of mining, masonry, metal work (beryllium or silicon exposure), and family history (Li-Fraumeni syndrome or lipid storage disease) should be asked during the history taking.
Chronic use of medications can contribute to cases of unexplained lymphadenopathy. Some medications that could cause this include allopurinol, atenolol, captopril, carbamazepine, gold, hydralazine, penicillins, phenytoin, primidone, pyrimethamine, Bactrim, quinidine, and sulindac.
Over 50 percent of healthy children will have unexplained lymphadenopathy at some point in time. Most of these cases are due to a benign viral or bacterial infectious etiology, and most will resolve within one month's duration. However, even if not, lymphadenopathy that does not change in size over a year's duration without concerning associated symptoms as above, have a low likelihood of being cancerous.1
On physical examination, a complete lymph node examination should be completed, then a more focused examination on the problematic area(s). This examination should focus on whether the enlarged lymph nodes are in a specific location, or if they are generalized. If isolated to a specific area, the area in which those specific lymph node drain should be assessed for a cause of the enlargement. The pictures below show what areas are drained by specific lymph nodes.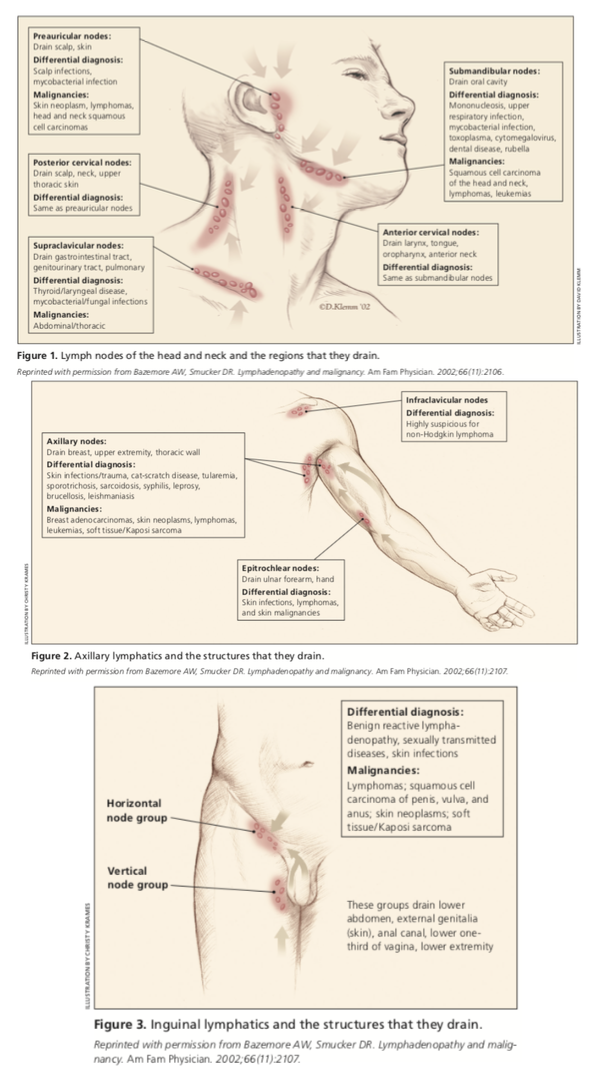 A full skin examination should be completed to identify any lesions that could be concerning for malignancy or any areas of erythema that could be concerning for infection. An abdominal examination should assess for any spleen enlargement, which in conjunction with lymphadenopathy could be due to mononucleosis, lymphoma, lymphocytic leukemia, or sarcoidosis.
Physical examination of the problematic lymph node may give some insight on the underlying etiology. If the area is erythematous, tender, and fluctuant this could be due to bacterial infection; however, it can also be due to hemorrhage of the lymph node or necrosis. If shotty lymph nodes are present, this can be due to a reactive process related to a viral infection. If painless, fixed, hard, and firm the lymph node may be malignant. However, the underlying cause of enlarged lymph nodes cannot be made solely on physical examination appearance.
The Location of the Lymphadenopathy
The location of an enlarged lymph node can often be helpful in finding the underlying cause of the lymphadenopathy. Head and neck lymphadenopathy can be further broken down into supraclavicular, preauricular, postauricular, anterior cervical, posterior cervical, submandibular, and submental. The most common causes of increased lymph node size in the head and neck is an infection. Most common causes are viral, Staphylococcus, Streptococcus infections. In persistent cases that have lasted over several months, cat-scratch disease, atypical mycobacteria, sarcoidosis, Kawasaki disease, and or Kikuchi lymphadenitis should be considered.
Supraclavicular lymphadenopathy is associated with an increased risk of abdominal malignancy and requires immediate evaluation. Studies have shown that 35 to 50 percent of these cases were due to malignancy, and those of 40 years of age or older being at the highest risk.
Upper extremity infection or injury most frequently cause axillary lymphadenopathy. Common causes include tularemia, cat-scratch disease, and sporotrichosis. If there is no infectious etiology found, axillary lymphadenopathy is highly suspicious for malignant etiologies, such as Hodgkin or non-Hodgkin lymphoma, lung, breast, thyroid, stomach, colorectal, ovarian, kidney, pancreatic, and skin cancers.
Epitrochlear lymph node enlargement more than 5 mm is pathologic and frequently is due to melanoma or lymphoma. Other causes may include infection of the upper extremities, secondary syphilis, or sarcoidosis.
Inguinal lymphadenopathy has been found to be more common in those who walk outside barefoot, especially those in a tropical area. Common causes include sexually transmitted infections, such as herpes simplex virus, chancroid, syphilis, and lymphogranuloma venereum. Other causes may include penile, urethral, or vulvar malignancy and melanoma.
Generalized lymphadenopathy is when there is enlargement of more than two lymph nodes in areas that are not adjacent to one another. Causes of generalized lymphadenopathy can be an autoimmune disease, diffuse malignancy, viral infection, medication, HIV, cytomegalovirus, Kaposi sarcoma, Cryptococcus, mycobacterial infection, and lupus.
Working The Patient Up
The workup for lymphadenopathy should largely be based upon the history and physical examination findings. If it is thought that the cause is benign in nature such as a viral or bacterial cause, then reassurance or antibiotics (Augmentin or clindamycin are reasonable options) should be given. If there are concerns for autoimmune disease, a rheumatologic workup should be considered. If there is the concern for malignancy, then a referral to general surgery or ENT (based on the location of lymphadenopathy) should be provided for biopsy.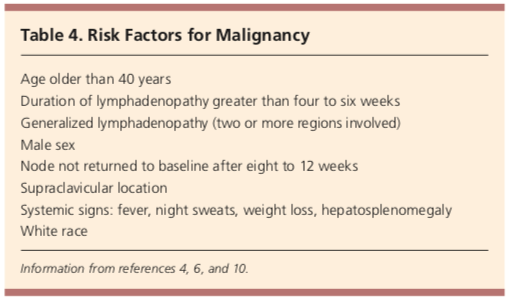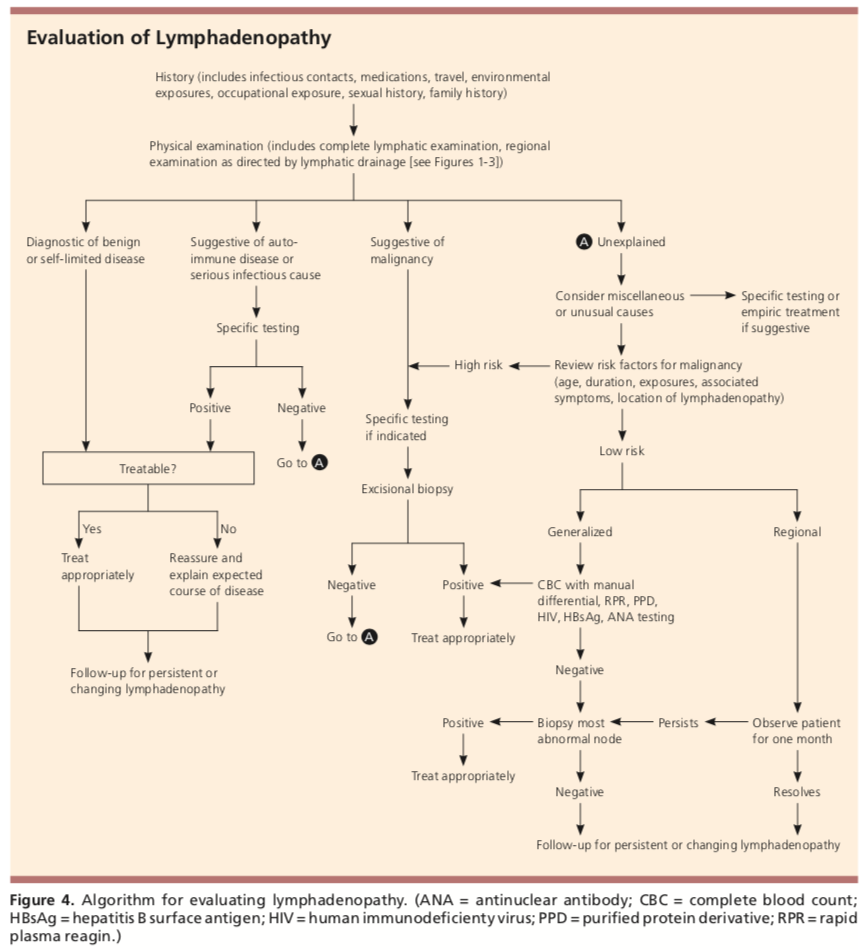 Most cases, at least initially, reassurance will be given with a follow up in four to six weeks. If there is no change in size or if there is a change in characteristics an initial workup may include a CBC, CMP, peripheral blood smear, LDH, ESR, CRP, CMV titers, EBV profile, and Bartonella antibody panel. If there are concerns for autoimmune disease, an ANA with reflex can be added. Other tests such as RPR, tuberculosis testing, HIV, and hepatitis panel should be considered as well.
Imagining can be considered as well. The American College of Radiology recommends in patients who are under 14 years of age that an ultrasound should be completed, whereas if older, a CT scan should be completed for assessment of lymphadenopathy.
I hope today's article provided some insight into the possible causes, diagnosis, and work up of lymphadenopathy. Remember to connect with us on Facebook or Instagram and let us know what you would like to learn about. As always, thank you for your support!
Resources
Am Fam Physician. Unexplained Lymphadenopathy: Evaluation and Differential Diagnosis. 2016;94(11):896-903. Copyright © 2016 American Academy of Family Physicians.

UpToDate. Evaluation of Peripheral Lymphadenopathy in Adults. Accessed: August 13, 2018.
This article, blog, or podcast should not be used in any legal capacity whatsoever, including but not limited to establishing standard of care in a legal sense or as a basis of expert witness testimony. No guarantee is given regarding the accuracy of any statements or opinions made on the podcast or blog.