Nephrotic vs Nephritic Syndrome
By
Clay Walker
- Apr 08, 2020
NEPHROTIC VS NEPHRITIC SYNDROME
Today we are going to dive into the topic of nephrotic and nephritic syndromes. As those of us in the healthcare profession, or in healthcare professional school know; these syndromes can be quite confusing and seem to come up often. In today's article we will cover glomerulonephritis made easy, nephritis and nephrosis and nephritic syndrome in children.
NEPHROTIC = PROTEIN; NEPHRITIC = BLOOD
The key with nephrotic syndrome is an excess amount of protein in the urine, whereas nephritic syndrome is where there is an excess amount of blood in the urine.
OTHER S/S OF NEPHROTIC SYNDROME
Patients with nephrotic syndrome will have:
Edema
Hypoalbuminemia
Hyperlipidemia
and proteinuria.
PRESENTATION OF NEPHROTIC SYNDROME
This patient will often present to you with complaints of peripheral edema and fatigue. This may make you think as a health care provider that the patient has liver disease, or perhaps congestive heart failure, however evaluation for both of these are negative.
EPIDEMIOLOGY AND CAUSES OF NEPHROTIC SYNDROME
The yearly frequency of nephrotic syndrome is 3 per 100,000 persons with the overwhelming majority of cases (>90%) being idiopathic in nature.
MC CAUSE OF NEPHROTIC SYNDROME BASED ON RACE
In white patients the most common cause is membranous nephropathy; in African American patients the most commonly known cause is segmental glomerulosclerosis. Both of these make up around 30 percent of cases.
Minimal change disease and immunoglobulin A nephropathy comprise around 15 percent of cases of nephrotic syndrome. Trying to find out the underlying cause of a patient's nephrotic syndrome can help treat the disease as a whole.
COMORBIDITIES LEADING TO NEPHROTIC SYNDROME
There are several underlying conditions that can lead to nephrotic syndrome with the two most common being type 2 diabetes and lupus.
NEPHROTIC SYNDROME - DIAGNOSIS
The diagnostic criteria of nephrotic syndrome includes:
heavy proteinuria
edema
hypoalbuminemia
and hyperlipidemia.
Within these criteria, there are certain thresholds, seen in the table below: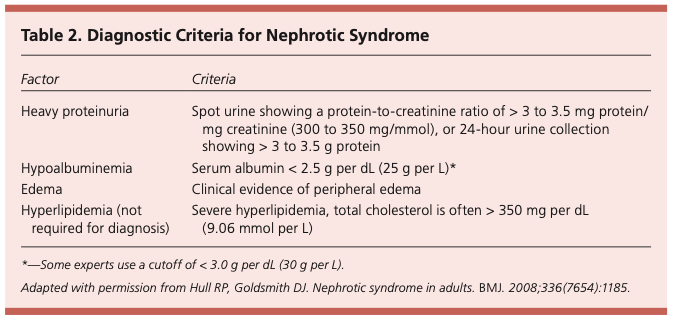 BEST TEST FOR PROTEINURIA
Confirmation of a patient's proteinuria with a 24-hour urine collection can be completed, however, this is rather time consuming and tedious for the patient. A protein to creatinine ratio can be completed on a single urine sample to diagnose proteinuria.
Another key aspect in patients with nephrotic syndrome, is trying to elucidate that underlying cause of the disease. Renal biopsy may be completed in some patients; however, guidelines are controversial as to whether to complete this or not.
TREATMENT
Regarding treatment of nephrotic syndrome, one of the most important things is to try to avoid complications that can occur due to nephrotic syndrome.
NEPHROTIC SYNDROME - COMPLICATIONS
Potential complications include venous thrombosis, hyperlipidemia, and infection.
NEPHROTIC SYNDROME – TREATMENT BY SYMPTOM
For edema, patients can be started on diuretics, such as furosemide, other loop diuretics, or thiazide diuretics.
Regarding the increased risk of venous thrombosis, each patient should be evaluated independently. Those patients who are at high risk of venous thrombosis could be started on anticoagulation, however, the bleeding risk could outweigh the risk of thrombosis, in which this instance you would not want to start anticoagulation.
Lastly for hyperlipidemia there is insufficient data to recommend starting dyslipidemia medication for isolated hyperlipidemia in patients who have nephrotic syndrome. If a patient has an elevated ASCVD risk score recommended statin therapy, this in this instance starting medication would be recommended.
NEPHROTIC SYNDROME – TREATING THE PROTEINURIA
For treatment of the proteinuria, typically ACE inhibitors or ARBs would be recommended due to their known antiproteinuric effects. Additionally, some patients may be on immunosuppressive therapies with corticosteroids, adrenocorticotropic hormone, Tripterygium wilfordii, alkylating agents, mycophenolate mofetil, azathioprine, IVIG, rituximab, eculizumab, cyclosporine, or tacrolimus.
NEPHRITIC SYNDROME
Next, we will discuss nephritic syndrome. This is a disease in which there is damage to the glomerulus that leads to:
hematuria
water retention
pyuria
Which leads to hypertension and edema. There are a myriad of things that can lead to nephritic syndrome including hereditary, autoimmune, and infectious etiologies.
NEPHRITIC SYNDROME- ETIOLOGIES
The list of possible causes of nephritic is daunting. This could range from:
glomerulonephritis
IgA nephropathy
Wegener's disease
Alport syndrome
Lupus nephritis.
The following table reviews the possible etiologies diagnostic findings, and the treatment of each diagnosis.
NEPHRITIC SYNDROME- CLINICAL FEATURES
Patients who have nephritic syndrome will have complaints of intermittent gross hematuria, or the classic "coca cola" colored urine. In addition to the hematuria patients will also have:
Hypertension
pitting lower extremity edema
decreased GFR
and potentially oliguria.
NEPHRITIC SYNDROME- DIAGNOSIS
The diagnosis of nephritic syndrome initially is largely based on the urinalysis with microscopy. On this test, red blood cells will be identified either small or large amount (microhematuria or macrohematuria). Additionally, dysmorphic red blood cells known as acanthocytes may be seen on microscopy.
Red blood cell casts, mild to moderate proteinuria >150 mg/d but <3.5 g per day, and sterile pyuria with white blood cell casts may all be apparent in patient with nephritic syndrome.
Once nephritic syndrome is identified, the next step is attempting to find the underlying etiology. Often, renal biopsy may be completed in these patients to identify the underlying cause of nephritic syndrome in these patients.
NEPHRITIC SYNDROME-TREATMENT
Often treatment for nephritic syndrome may first include supportive care including a low-sodium diet and water restriction. Treatment additionally may include treatment of associated issues.
ASSOCIATED ISSUES
These may include hypertension and proteinuria in which ACE inhibitors or ARBs which can help with both of these issues. Additionally, just like with nephrotic syndrome, immunosuppression may be used as well in the case of nephritic syndrome.
Lastly, if there is severe renal dysfunction, hemodialysis or renal transplantation might be indicated in certain patients as well.
REFERENCES
This article or blog post should not be used in any legal capacity whatsoever, including but not limited to establishing standard of care in a legal sense or as a basis of expert witness testimony. No guarantee is given regarding the accuracy of any statements or opinions made on the podcast or blog