Today's topic will be a brittle one…. brittle regarding brittle bones. Over 10 million people in America have osteoporosis. Osteoporosis is defined by The National Osteoporosis Foundation as a "chronic, progressive disease characterized by low bone mass, microarchitecture deterioration of bone tissue, bone fragility, and a consequent increase in fracture risk."1
Regarding fractures caused by osteoporosis, around 50 percent of women and 20 percent of men have a fracture in their lifetime due to osteoporosis. These fractures lead to increase rates of disability, nursing home stays, healthcare costs, and overall mortality.1
One of the biggest risk factors for osteoporosis is age. As the United States population is aging, the prevalence of osteoporosis is expected to increase likewise. Additional risk factors include smoking, a low level of physical activity, history of fracture, low calcium and vitamin D intake, low body weight (less than 58 kg), gonadal hormone deficiency, excessive alcohol intake (more than 4 drinks per day for men and more than 2 drinks per day for women), and having a family history of an osteoporotic fracture.
Osteoporosis is diagnosed based on a patient's bone mineral density (BMD) based on dual-energy x-ray absorptiometry (DEXA) testing in the spine and hip.
A calcaneal ultrasound or peripheral DEXA scan can also provide the risk of fractures. However, these diagnostic studies do not correlate with fracture risk as well as the traditional central DEXA testing, and subsequently should not be used for diagnosis.1
The World Health Organization has created criteria for the diagnosis of osteoporosis. These values are based on the bone mineral density and your T-score. An individual's T-score is the difference in the BMD in standard deviations than that of a 30-year-old adult of the same sex and ethnicity.
A T-score greater than -1.0 is considered normal, a score between -1.0 and -2.5 is osteopenia, and a score less than -2.5 is considered osteoporosis. Lastly, a T-score of less than -2.5 and the having one or more osteoporotic fractures is considered severe osteoporosis.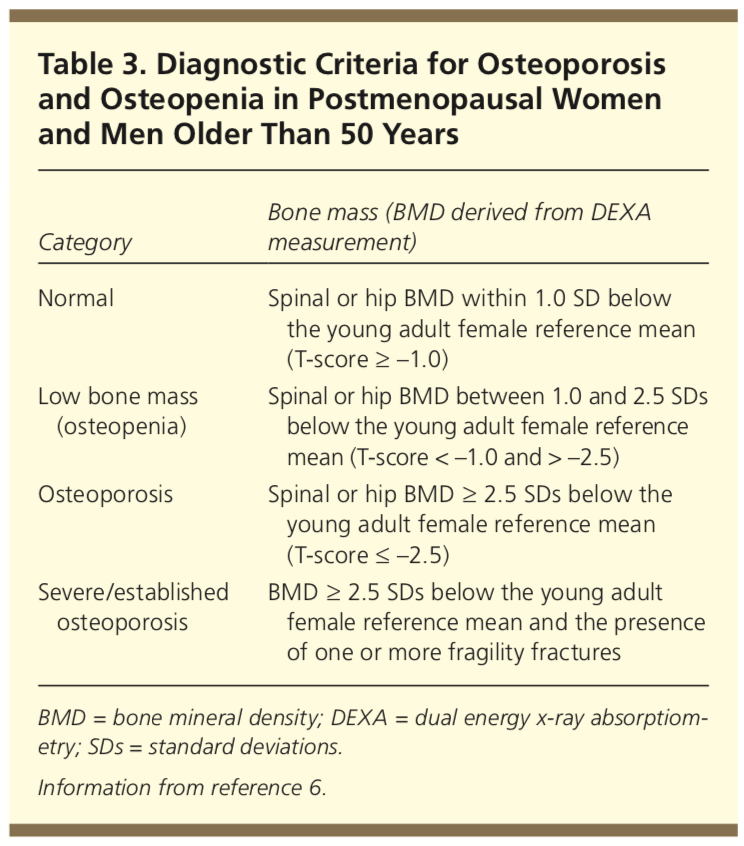 These criteria should not be used for young children, premenopausal women, and men who are younger than 50 years. In these populations, a Z-score should be used.
A Z-score is the difference in the BMD in standard deviations than that of someone the same age, sex, and ethnicity as the patient. A Z-score of less than -2.0 are considered abnormal and should be further evaluated.
As mentioned above, as our population ages, the more cases of osteoporosis are to be found. The USPSTF has released guideline on screening for osteoporosis. They recommend screening all women 65 years and older with DEXA of the hip and spine.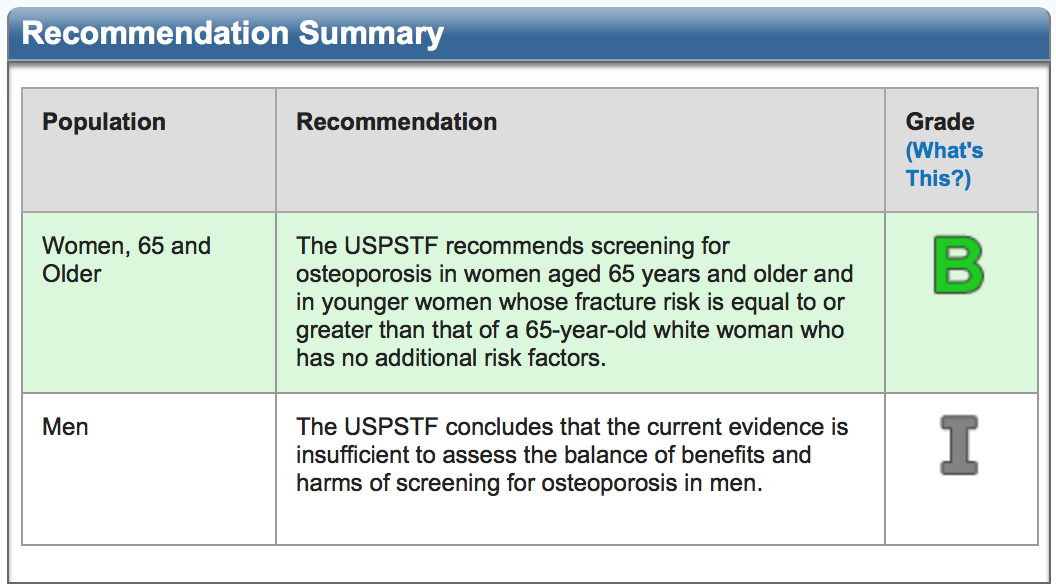 The USPSTF also recommends screening women who are younger than 65 years who have a 10-year fracture risk that is at least equal to that of a 65-year-old female. Regarding how to figure out if your female patients younger than 65 years are at an elevated fracture risk, the FRAX WHO Fracture Risk Assessment should be used.1
The USPSTF found insufficient evidence to create a recommendation for screening for osteoporosis in men. However, the National Osteoporosis Foundation recommends screening for all men 70 years of age and older. This is due to the belief that men over 70 years of age have a comparable fracture risk to 65-year-old females.1
Regarding when to repeat screening for osteoporosis in females, there is some gray area. In patients who have osteopenia without any risk factors for bone loss a repeat DEXA can be completed in 3-5 years.2
In patients with osteopenia with risk factors for bone loss, a recommended repeat DEXA should be done in 2 years.2
For patients with osteoporosis or those undergoing therapy, repeat DEXA should be completed in 2 years.3
We have primarily discussed primary osteoporosis above, which is caused by aging and bone loss due to decreased hormone production. What about patient's that are younger with osteoporosis? Often, this is due to secondary causes (secondary osteoporosis).
We tend to think about younger individuals having secondary osteoporosis. However, around 1/3 of postmenopausal females who have osteoporosis are due to secondary causes. Additionally men, perimenopausal, and premenopausal women who have osteoporosis are due to secondary causes over 50 percent of the time.1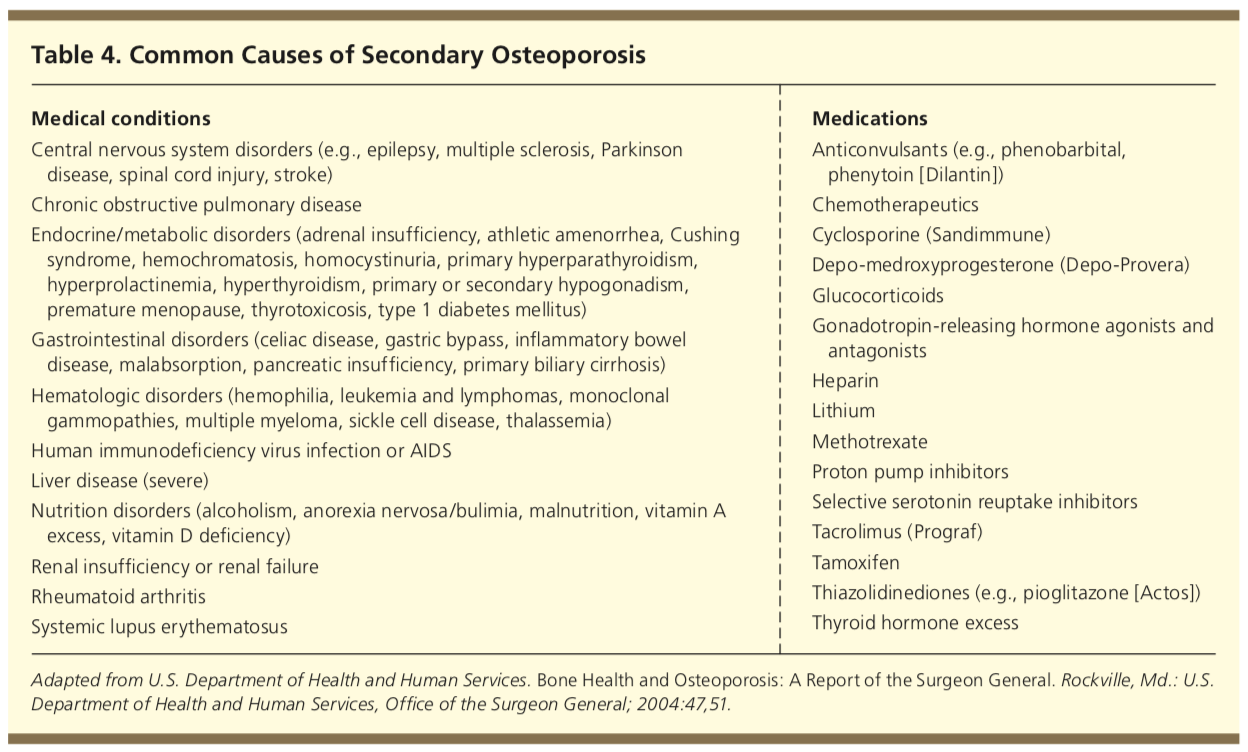 Regarding workup for patients with osteoporosis with concern of a secondary cause, general blood workup should be completed including a CMP, 25-hydroxyvitamin D, and TSH. Further testing should be based off of historical and clinical findings, as well as from the initial lab results.
The National Osteoporosis Foundation suggests that treatment for osteoporosis should be instituted in postmenopausal females and males in patient's that have:
A personal history of a hip or vertebral fracture
A T-score of -2.5 or less
A T-score of between -1.0 and -2.5 and;
A 10-year risk of hip fracture greater than 3 percent or;
A 10-year risk of any fracture of 20 percent or greater
Treatment of osteoporosis consists of several nonpharmacological as well as pharmacological options and choices. In those with osteoporosis, fall prevention is crucial as these falls can frequently cause fractures. Additionally, the USPSTF recommends regular weight-bearing exercise or physical therapy as well as vitamin D and calcium supplementation in those over 65 years of age.
Aerobic exercise without strength or balance training is not recommended. Patients should be recommended to stop smoking as this has been shown to decrease body wide BMD.1
Heavy alcohol intake, more than four drinks daily in men and more than two drinks daily in females, should be avoided and is considered a risk factor for fractures.
Dietary recommendations include limiting caffeine intake, increase protein intake with good calcium, vitamin D, vegetable, and fruit intake.1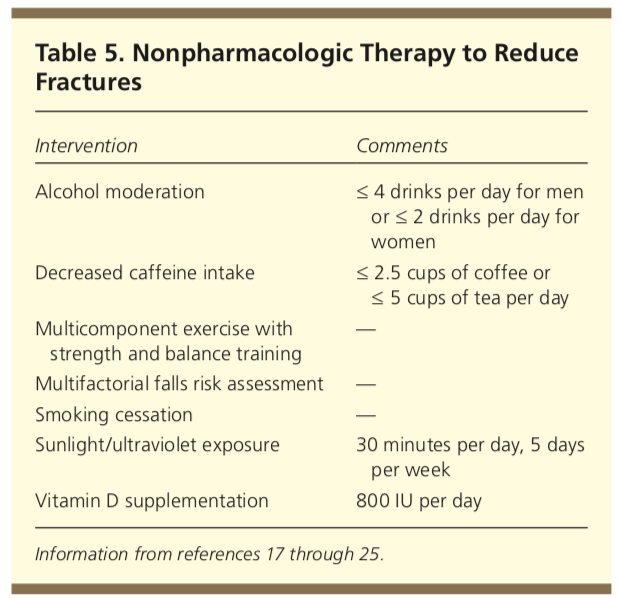 Pharmacologic treatment of osteoporosis includes several different types of medications. The most commonly prescribed medications include bisphosphonates. These medications inhibit the osteoclasts ability to resorb bone and are first-line therapy.
Studies have shown that these medications decrease hip and vertebral fracture in postmenopausal females as well as in men with osteoporosis, and those on glucocorticoids.
These medications should be taken first thing in the AM with only water, and then the patient should remain sitting and not eat any other foods for at least 30 minutes. This aids in the reduction of GI adverse effects associated with the class of medication and increases absorption.
In addition to oral bisphosphonates, there are IV medication in this class. These are Zoledronic acid (Reclast) which is given IV once yearly, and Ibandronate which is given every three months. These two medications, however, are quite pricey; therefore, they are used only in patients that are unable to tolerate oral bisphosphonates.
There is not a defined length of time that bisphosphonates should be given. However, there has been data that has shown that use of these medications for over ten years is linked to atypical femur fractures and osteonecrosis of the jaw.
Data has also revealed no additional benefit to taking bisphosphonates regarding the reduction of fractures over five years. Recommendations are to discontinue these medications after five years of use.
Raloxifene is a selective estrogen receptor modulator that is indicated for use in postmenopausal osteoporosis, where it has been seen to reduce the rate of vertebral fractures.1 Adverse effects with this medication often include vasomotor symptoms, increased risk of venous thromboembolism, and decreased risk of invasive breast cancer.
Calcitonin nasal spray works to inhibit the osteoclast activity and may have the benefit of increasing osteoblast activity, and is indicated for the treatment of postmenopausal osteoporosis.1 Unlike the bisphosphonates, this medication only has been shown to reduce the risk of vertebral compression fractures. Therefore, it is not a first line medication for osteoporosis. This medication also has been shown to have an increased risk of cancer rates.
Teriparatide is a recombinant human parathyroid hormone which provides bone anabolic activity.1 This medication is given daily in subcutaneous fashion for up to 2 years. It has been shown to decrease the rate of vertebral and hip osteoporotic fractures. It can also be used after a five-year treatment span with bisphosphonates in patient's where the DEXA still shows osteoporosis.
Denosumab is a human monoclonal antibody that prevents the formation and activity of osteoclasts. It is given subcutaneously every six months for up to 3 years. It has been shown to significantly increase BMD as well as reduce the risk of hip, vertebral, and nonvertebral fractures. Denosumab can also be used after a patient has been on bisphosphonate therapy for five years, but still has evidence of osteoporosis on DEXA imaging.
Hormone therapy with estrogen with or without progesterone has shown a slight reduction in the risk of hip and vertebral fractures. However, this slight reduction has not shown to outweigh the risk of VTE, stroke, coronary heart disease, and breast cancer.
Resources
Am Fam Physician. Diagnosis and Management of Osteoporosis. 2015 Aug 15;92(4):261-268.
UpToDate. Screening for Osteoporosis. Accessed: February 20, 2018.
UpToDate. Overview of the Management of Osteoporosis in Postmenopausal Females. Accessed: February 20, 2018.
Am Fam Physician. Treatment of Low Bone Density or Osteoporosis. 2017 April.
USPSTF. https://www.uspreventiveservicestaskforce.org/Page/Document/UpdateSummaryFinal/osteoporosis-screening. Accessed: February 20, 2018.
This article, blog, or podcast should not be used in any legal capacity whatsoever, including but not limited to establishing standard of care in a legal sense or as a basis of expert witness testimony. No guarantee is given regarding the accuracy of any statements or opinions made on the podcast or blog.