PA Salary 2019
By
Clay Walker
- May 14, 2020
PA Salary 2019
Today we are going to dive into the topic of PA salary 2019. As we know, salary can vary largely based on years of experience, your specialty, and whether you work in an inpatient versus outpatient practice; or private versus institutional versus public funded practices. So, let's dive in!
Salary By State
Physician assistant pay will not only fluctuate based on the state you practice in, but also what area of the state in which you practice (i.e. rural vs. metropolitan). Looking at the averages of salaries for physician assistants, New York State has the highest salary on average, whereas North Carolina has the lowest. The table below lists the median physician assistant salary state by state.

Increase Salary and Job Opportunities
When comparing physician assistant jobs to years previous, we continue to see an increase in the number of job opportunities, but also, we continue to see an increase in the annually salary even when we look at the number of PA salary in 2018.
Average PA Salary in 2003; 2005; 2015 and 2018
Looking back in 2003 the average salary for a physician assistant was $76,039, and as time has progressed, this number was increased. In 2005 it was $81,129, in 2015 it was up to $101,000, and the average PA salary of 2018 was $104,860.
Type of Practice Setting
As we mentioned in the opening, depending on the setting that you work in as well can make a difference in your salary. The question of how much do physician assistants make will largely depend on the type of practice that you are in, these include:
University hospitals
Outpatient care centers
Government owned facilities
Federally qualified health centers
Specialty groups
Solo practices

Practice Area/Specialty
Lastly, one thing to always remember is the area of medicine you are practicing in can cause your salary as a PA to vary as well. This can range from $120,000 down to $90,000. The table below lists several specialties and their corresponding average salaries.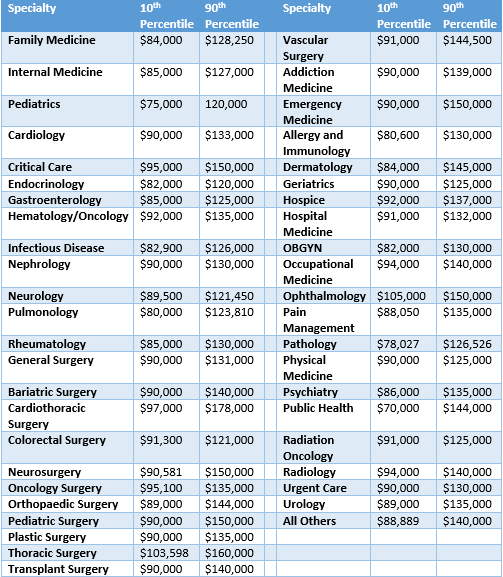 Locum Tenens
One final note regarding physician assistant salaries is the topic of locum tenens. Locums is often an enticing option for PAs that are looking to make more money. Since PA's often work less hours that what a physician does, often physician assistants can pick up extra shifts when they are off from their full-time positions.
You can also accept short term locum tenens positions that can be worked while on vacation from your full-time position. Locums will typically pay for your travel, lodging for yourself and family, and rental vehicles.
Physician assistants can also elect to work locum tenens full time, which will more often pay higher wages that being in that specialty and location full time, and will provide benefits, all while still covering the aforementioned lodging and travel costs.
Resources
AAPA Salary Guide. 2019.
https://www.studentloanplanner.com/how-much-do-physician-assistants-make-in-salary/#physician-assistant-salary-by-specialty
Physician Assistant Wages and Employment, 2000-2025. JAAPA.
This article or blog post should not be used in any legal capacity whatsoever, including but not limited to establishing standard of care in a legal sense or as a basis of expert witness testimony. No guarantee is given regarding the accuracy of any statements or opinions made on the podcast or blog