PA School Cost
By
Clay Walker
- Mar 24, 2020
PA School Cost
One of the biggest worries of an aspiring pre-physician assistant (PA) student is, how am I going to pay for this? As we all roughly know and can assume, PA school is an expensive degree to dive into and complete. So, today we will be discussing PA school cost, PA schools in California, the cost of medical school versus PA school, and financial aid options for physician assistant students.
Cost of PA School
As you can imagine, the cost of going to PA school can vary largely. This may depend on the state that you desire to go attend PA school in, whether you are a resident in the state that you are attending PA school, and whether the school in which you attend is a public or private institution.
Average cost of PA school
The average cost to attend physician assistant school is between $75,000 and $80,000 if you are a resident of the state that you are attending PA school. This cost for tuition and fees is continuing to increase at a rate of around 9 percent over the last year.
For a student who is not a resident of the state in which they are attending physician assistant school, the cost rises even more, to an average of around $95,000 dollars.
What states are the most expensive?
As mentioned above, additionally certain states are more expensive to attend physician assistant school in. The most expensive states to go to physician assistant school are:
California
Massachusetts
Connecticut
Rhode Island
Tennessee
The cost to attend physician assistant school in any of these above listed states ranges from $90,000 to $110,000.
Where is PA school more affordable?
However, there are some states where is it much more affordable to attend physician assistant school in comparison. The following states are those in which it is cheapest to attend PA school:
Kansas
Texas
Alabama
Iowa
Wisconsin
The cost to attend physician assistant school in any of these above listed states ranges from $50,000 to $80,000.
List of 2019 cheapest and priciest PA schools
Lastly, we will dive in a little bit further and list the actual most expensive and cheapest physician assistant schools to attend as of 2019.
Cheapest
The cheapest costing PA schools to attend were:
University of Texas Rio Grande Valley
Towson University – Essex
Miami-Dade College
University of Texas at San Antonio
University of Texas at Galveston
Most Expensive
Whereas, the most expensive schools to attend physician assistant school at were:
University of Southern California
Touro University
University of California Davis
Massachusetts General Hospital Institute of Health Professions
Pace University
Cost to Attend Physician Assistant School in California
Next, we will look at California specifically regarding the cost of physician assistant school. As mentioned above California is the most on of the most expensive states to obtain your PA degree.
California estimated tuition by school
Below is a table of the estimated tuition for the physician assistant school in the state of California.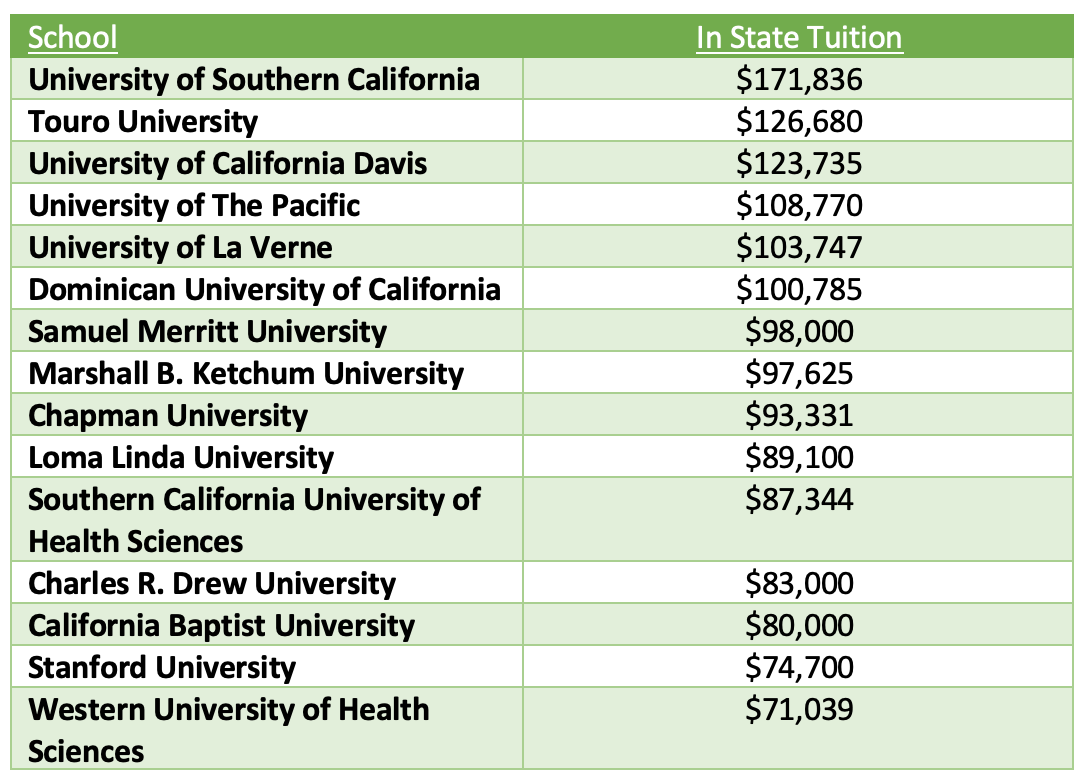 Cost of PA School versus Medical School
One decision that a pre-health profession student often times must entertain is whether to attend physician assistant school versus medical school. However, this discussion is very convoluted with many details to take account for, one of these is the cost of each route respectively.
As we talked about in length above, the cost of PA school will largely vary dependent upon the state where you go to school and whether the school is a private or public institution.
However, for PA school the average estimated cost would be between $75,000 and $95,000 dollars annually. This could even go as low as $50,000 or as high as $170,000.
Medical School tuition
When we look at medical school tuition, the average annual tuition in 2019 for a public university was around $40,000.
For a private institution, the tuition and fees annually increased to $55,000.
I live a true-life example of this where I attended PA school and my spouse completed medical school.
What are the totals of PA school vs Medical school?
In our case my tuition and fees ended up totaling around $170,000 for the entire program, whereas my spouse's medical school tuition and fees totaled to around $315,000 when it was all said and done.
Time to pay off loans
Another aspect to take into account as well is the time that it will take you to pay off the student loans, and how long it will be until you are making a true physician vs physician assistant salary.
This may vary depending upon if you plan to do a PA residency or not. Or regarding the medical school route, how long your residency will be or if you would plan to complete a fellowship. As you can see, there are a lot of factors that can go into making this decision!
Can you get Financial Aid for PA School?
The short answer to this question, is YES! You can indeed get financial aid for physician assistant school.
Similarly, to when you were in undergraduate you may have completed the FAFSA, same there here for physician assistant school. One can complete the FAFSA and dependent upon your need you can be eligible for various grants and loans.
These may include Pell Grants, Stafford Loans, Perkins Loans, or a Federal Work-Study Program to name a few. For a Master's program, loans are usually unsubsidized, but the amount you can borrow is generally much greater than undergraduate/bachelor's studies.
Loan Repayment
The other thing to think about as well is; how you plan to pay back these loans once you are a working clinician.
You may choose to pay back these student loans monthly as you work or through other various government based repayment plans. Such as Income-Based Repayment Plans or Pay As You Earn Plans, etc.
Loan Forgiveness
There are several other options for student loan forgiveness as well including:
AmeriCorps
the Indian Health Services Program
Military Loan Repayment
Public Service Loan Forgiveness
National Health Service Corps
and State or Local Based Loan Forgiveness.
To learn more about each of these above options, take a look at the article Physician Assistant Loan Repayment on Medgeeks!
In conclusion…
I hope this article helped to flesh out some of the many details of the cost of physician assistant school including the ranging amount of the cost of PA school based on location and the cost of medical school versus physician assistant school. If you have any questions, feel free to reach out to us at Medgeeks! Until next time!
This article or blog post should not be used in any legal capacity whatsoever, including but not limited to establishing standard of care in a legal sense or as a basis of expert witness testimony. No guarantee is given regarding the accuracy of any statements or opinions made on the podcast or blog.