Physician Assistant Continuing Medical Education
So, you have completed physician assistant school, you have taken and passed the PANCE, now what? You are eager to get into practice, or residency as Dan talked about last week (click here to read that article), and start seeing patients. However, whether you realize it or not, we all have a long way to go in the learning process when beginning practicing in the medical field. This is where physician assistant continuing medical education comes into play.
One of the main missions of the physician assistant program that I attended was to train PA's that would continue to be lifelong learners, and part of this is by completing the required physician assistant CME hours.
There are a myriad of different routes or paths to garner the necessary physician assistant continuing medical education hours, and today we will discuss various options as well as the current requirements.
NCCPA CME Requirement
The NCCPA currently requires a physician assistant to gain and log 50 hours of category 1 CME and a total of 100 hours of CME total. There is no limit or required amount of category 2 CME time that must be attained.
There is a myriad of options regarding how to acquire category 1 and 2 CME hours. Category 1 CME options may include, but are not limited to, regular certificates including quizzes from medical journals, certification programs (listed in table below), performance improvement, and self-assessment. A full explanation of all of the different options can be found here: https://www.nccpa.net/CMECategoryTypes.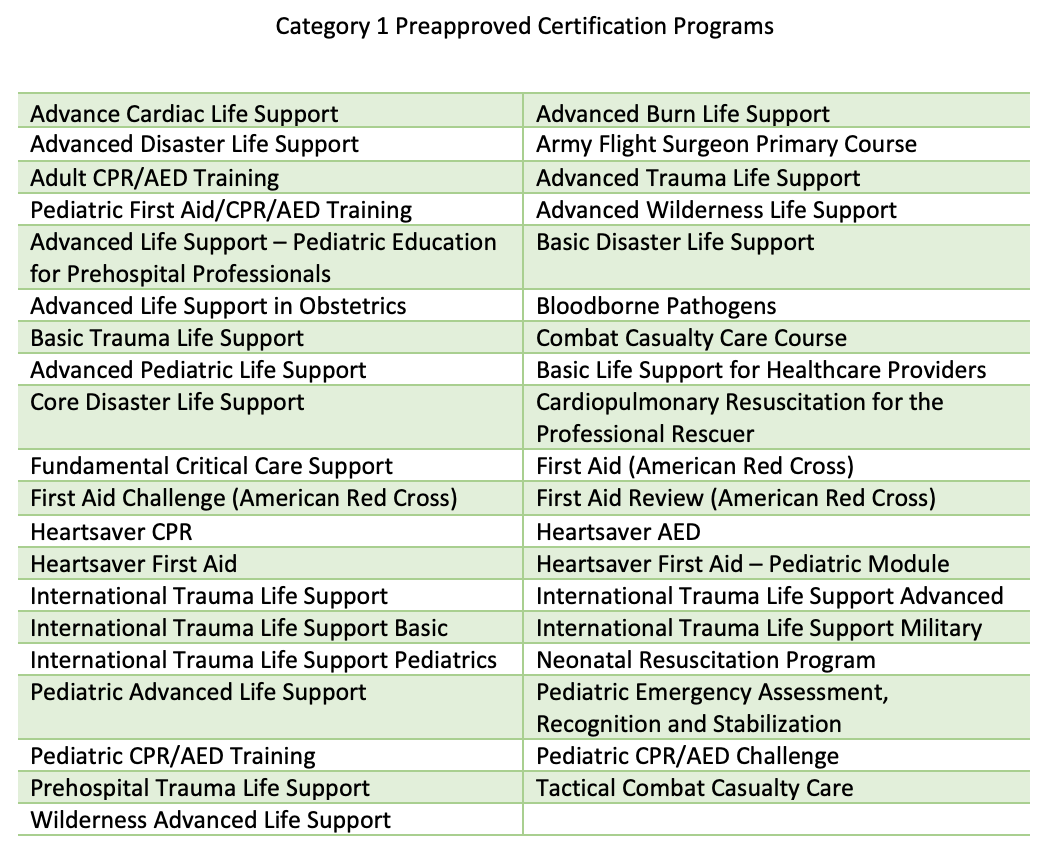 Options for NCCPA CME category 2 hours are much broader and include any activity that is related to medicine or patient care that has not been dedicated to category 1 already. This may include time spent reading articles or mentoring or precepting students.
AAPA CME
A great way to acquire the required physician assistant continuing medical education hours is by attending medical conferences, such as the AAPA conference. Conferences allow healthcare providers to stay up to date on common topics, disease, and pathology that is seen in clinical practice, and will enable one to listen to these topics lectured by some of the masters in those respective fields.
The AAPA CME sessions at this conference can often facilitate for a vast majority of the needed NCCPA category 1 hours for certification. If you are interested in the 2019 AAPA CME conference, more information can be found at https://www.aapa.org/conference/.
Other Physician Assistant Continuing Medical Education Options Hours
There are countless options for healthcare providers to acquire their needed physician assistant continuing medical education hours. Some ways may include using a common resource known as UpToDate or Medscape.
Other quite useful sources for CME that I personally use are journals, including but not limited to The Journal of the American Academy of Physician Assistants, American Academy of Family Physicians, The Medical Letter, The Prescriber's Letter, The Journal of the American Medical Association, and The New England Journal of Medicine.
Depending on what field of medicine you may practice in, some of these journals may be useful to you in practice, and others may not. However, fear not, there are specific medical journals curtailed to specific specialties that will allow you to stay up to date and knowledgeable in the field that you practice.
Importance of Continuing Medical Education
Medicine is continuously and rapidly evolving. It is impossible to stay up to date with every single thing in one specialty of medicine, let alone all of them. We have to accept as healthcare providers that we do not know everything, and we never will, and that is okay.
Side note: if you need a little help trying to figure it all out, we can help.
That can be a tough pill to swallow, thinking that you may be the only thing standing between life and death for a patient; however, if you are self-aware and appreciate this fact, you will be able to realize when you do not know something, and know when to ask for consultation; you will also then realize what you need to learn more about.
As I mentioned earlier in the article, one of the main missions for the physician assistant school that I attended, was to train new physician assistants who will be lifelong learners.
I think this is an important task and goal for all healthcare providers. Continuing medical education, along with courses and podcasts, can aid in lessening the learning curve when entering the field of medicine.
Conclusion
Overall, the challenge of gaining the required physician assistant continuing medical education hours can be daunting. However, there are ample options including journals, self-assessment quizzes, certification programs such as PALS, ACLS, and BLS, and medical conference, which aid in getting these hours successfully.
Even though it may seem like a hindrance as we get busy with our careers and life in general, we must remember we are ultimately doing this for our patients, to treat and care for them, which is why we all got into this field in the first place.
Resources