Physician Assistant Doctorate
Previously, we have discussed the ever changing and rapidly growing topic of physician assistant education, particularly the physician assistant residency. Today, we will explore another facet of higher education available to the physician assistant, the physician assistant PhD aka the physician assistant doctorate.
As education has increased, requirements and options for educational pursuits have multiplied. Many nurse practitioner programs now offer a doctorate degree and the rise of physician assistant PhD programs is a consideration available to experienced practicing clinicians who may be interested in pursuing a Doctor of Medical Sciences degree or a physician assistant doctorate.
Additionally, the realm of academia has begun to offer the new graduate many different options for further education throughout their career. Whether this be a 12 to 24 month residency in a sub-specialty, a CAQ examination for higher autonomy in a specialty, and now a PA PhD program aimed at increasing provider autonomy, leadership opportunity, and patient care.
Side note: if you're interested in a residency program, you can see what Katelyn Reeve PA-C did to get into the ER residency of her choice. Click here to learn more.
The Debate
Many academics argue that the physician assistant profession has been slow to adapt to the needs for advanced degrees among clinicians in both the clinical and educational setting. Ancillary health care professionals such as physical therapists, audiologists, nursing education, and occupational therapy have already adapted to changing times and churn out doctorate degrees routinely (Danielsen, Randy 2017).
The question will remain for the physician assistant community whether a doctorate degree is plausible and useful for the average PA and today, we will look at the curriculum and subsequent pros and cons to the degree.
Many physician assistant or doctor of medical science programs are still in their infancy or have only graduated a few classes at this point in time. Leaders in the field include A.T. Still University, Lincoln Memorial University, University of Lynchburg and others. Many other doctor of medical science degrees exist, but are not limited to matriculating only physician assistants as candidates.
Gaining Admission and the Cirrculum
From gathered research in relation to the clinical and curricular activities and requirements for admission, strong candidates have:
Master's in physician assistant studies

High GPA

Evidence of leadership

Strong clinical background.
A license/certification as a PA is also required. Some schools also require a personal statement of professional goals or explanation of interest in the degree. Some programs require at least 3 years clinical experience as a physician assistant.
Once admission is granted, the length of the physician assistant doctorate program is variable. Many programs are accomplished online and require occasional visits to the physical campus for research presentations or other opportunities.
Some programs are as little as 12 months, but others may be longer. Tuition is variable, with some programs boasting entire program tuition for as little as $23,000, while others are variable based on the time it takes the student to complete the program.
The curriculum of a physician assistant doctorate program is aimed at both research development as well as leadership opportunity, clinician growth and personal development. A review of multiple programs' listed curriculum includes courses such as Evidence Based Research and Performance Improvement, Health care Administration, Global Health Issues, Health Care Law, and Disaster Medicine.
In addition to semesters aimed to help students develop research and leadership skills, many programs have a capstone project that is aimed to help the student perform an original research project on a topic of interest to their specific specialty.
For students, this may include trying to identify communication improvements between team members during trauma situations, or in a primary care setting could include a longitudinal research project regarding improving communication as a way to measure patient medication adherence. The options are limitless and are student directed.
Here's a sample cirriculum from the Massachusetts College of Pharmacy and Health Sciences: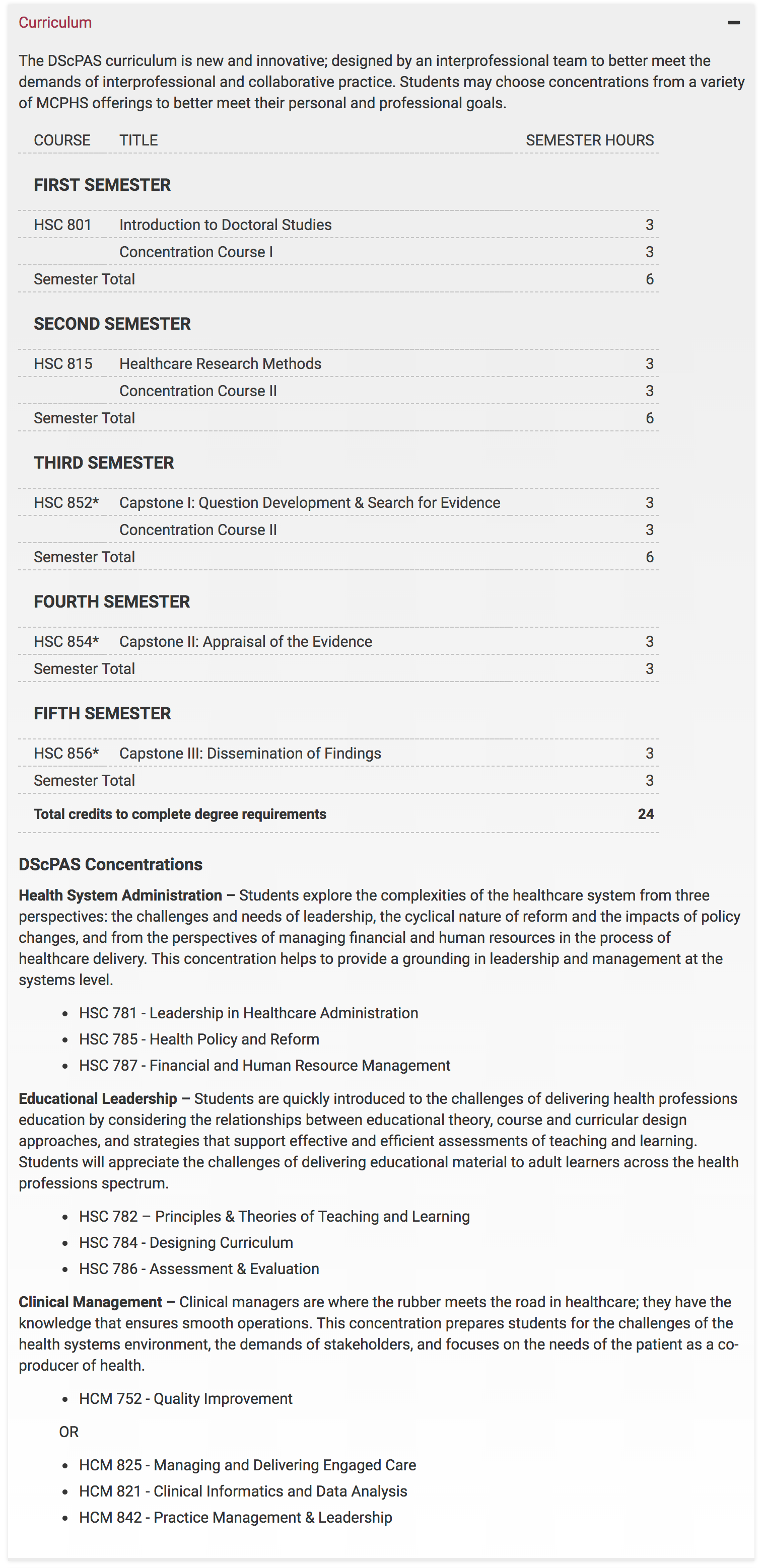 Beyond the Degree
Once the degree is awarded, the remaining questions include the pros and cons to the endeavor.
What are the benefits for the clinician?

Are the financial and time commitments worth it?

What improved autonomy/practice benefits are awarded?

How does the degree award improved clinical and educational benefit?
The positives of a physician assistant doctorate degree are many. Although not a traditionally heavy research program, concepts learned with the advanced degree could improve clinician problem solving skills and manifest as higher order thinking, resulting in improved patient care. Patient care outcomes may be widely improved and this may result in advancement in the physician assistant's career, higher pay, and job advancement.
An additional benefit includes advancement in leadership opportunity for the physician assistant. As the cost of health care continues to rise, graduates may have a higher chance of sitting on hospital advisory boards or other important leadership roles. Additionally, many students take on this role as a way to prepare for a career in the academic setting.
Applying to teach at a PA program may be more readily available with a doctorate degree. Other venues for application of a graduate doctoral degree for the physician assistant include global health, government, and public health.
Finally, the role of the physician assistant and nurse practitioner is continually changing. A doctoral degree could serve as a response to an ever changing job market that is growing increasingly competitive.
Some programs are even advocating that through this extra training and degree, advanced practice professionals could one day be considered autonomous. Many consider the doctor of medicine program as a way to combat the upcoming physician shortage, which is expected to be up to 90,000 by the year 2025. (Weiman, Darryl 2017).
So, is the Physician Assistant Doctorate Worth it?
There are many benefits to a physician assistant doctoral degree overall. However, with the time and financial commitment for such an endeavor, one must consider the cons to such an investment as well. Many clinicians continue to practice during the doctoral education, which can result in increased stress, decreased patient care, and provider burnout.
The financial and time commitment is a serious consideration as well, as many graduating clinicians have student loans that may continue during further education.
Since the programs are relatively new, it can be hard to predict what tangible benefit is brought to the clinician who completes the program. This writer was challenged to find salary data given that few PAs have explored this route.
From a personal standpoint, unless I was offered an administrative position post graduation, it is difficult for me to see how my personal job role would change as a doctorate degree holder. My patient care may be improved from research methods and taking extra courses, but it is unclear to me how my overall job role would change with this degree.
The physician opposition to a doctor of medical science degree deserves some attention as well. In a recent article, Darryl Weiman, a physician at the University of Tennessee argues that the traditional training of a physician, with a rigorous residency, can not be replaced by a few years of clinical experience as a physician assistant and then completion of a doctorate degree
Regardless of the opinion you have on a physician assistant doctorate degree, it is something for the practicing physician assistant to consider. As healthcare costs, complexity of medicine, and academia continue to grow, advancements in education and options available for PAs will continue.
Resources:
Danielsen, Randy D. (2017). The Professional Doctorate. Clinician Reviews, June 2017 27(6): 7-9.
Weiman, Darryl (2017). The Doctor of Medical Science. Huffington Post, 5 July 2017.
University of Lynchurg Doctor of Medical Science Information Page. Date of Access 30 December 2018.