Click here to get our free clinical lab guide
Physician Assistant Resume
Today we will be discussing the physician assistant (PA) resume. We will go into an entry level physician assistant resume; the physician assistant resume job description; as well as the ever-common question, the CV vs resume. So, let's get started!
Entry Level Physician Assistant Resume
When graduating PA school and starting to look for a job, your entry level PA resume is key to landing your dream job! This resume should include:
Your name
Contact information
and location
At the very top of the page.
Education
Next your education should be listed from the most recent to the oldest. This includes your PA education;
Where you went to PA school
Your clinical rotations (which can be in a section labeled "Clinical Rotations" and locations
The skills that you are proficient in from your training during school.
If you have not graduated PA school yet; put your expected graduation date and board examination date, as well as your GPA if applicable.
Following this information, you should then advance into your undergraduate education, location, and degrees awarded along with your respective GPA's, if applicable.
Employment History

Next, you want to include any related employment history that you have had in the past. This may include jobs during for undergraduate times or perhaps jobs in the timeframe between undergraduate and PA school.
Awards, Honors & Volunteering
The next two sections should be any awards or honors that were received during your PA schooling, and then any volunteer activities that you participated in during PA school.
Publications/Research; Licensure; Professional Memberships
The last three parts that should be included in your entry level physician assistant resume may be any publications or research that you have been involved in. Include special training or licensure you hold, such as ACLS, PALS, etc. Last, any and all professional memberships and societies you are a member of, such as AAPA, AMA, etc.
Example resume
As an example, see my resume that I used after finishing PA school prior to beginning my first job: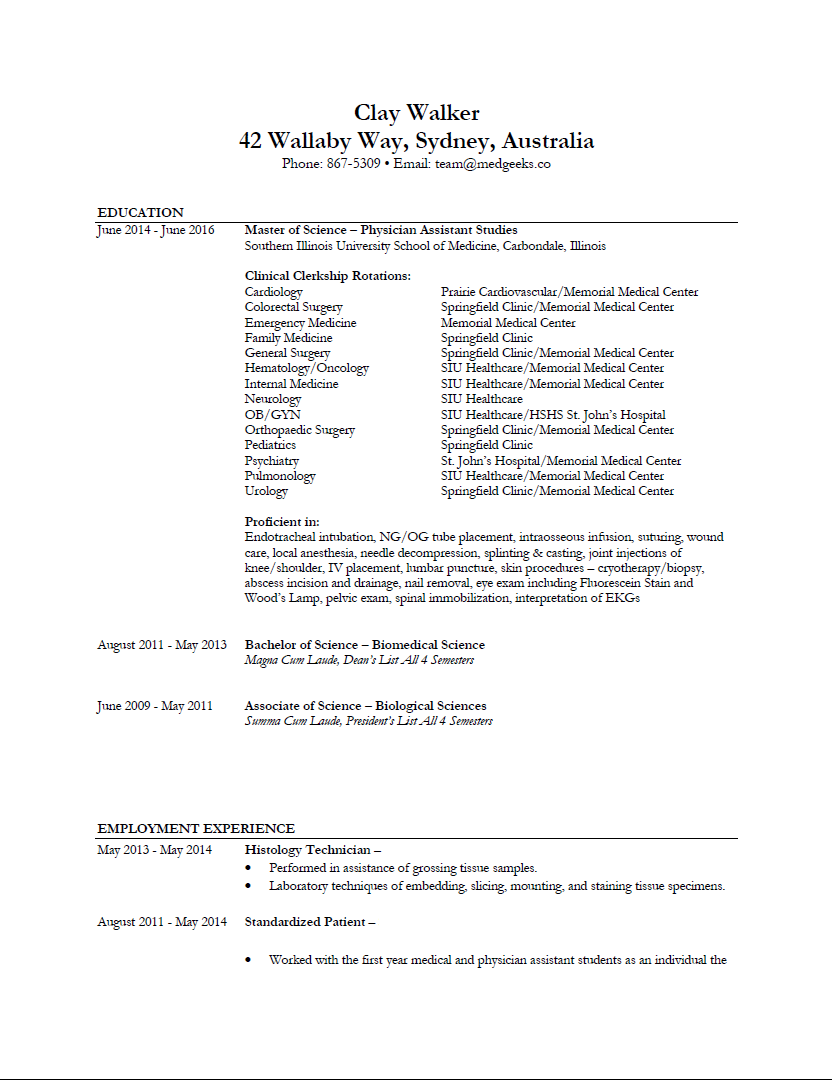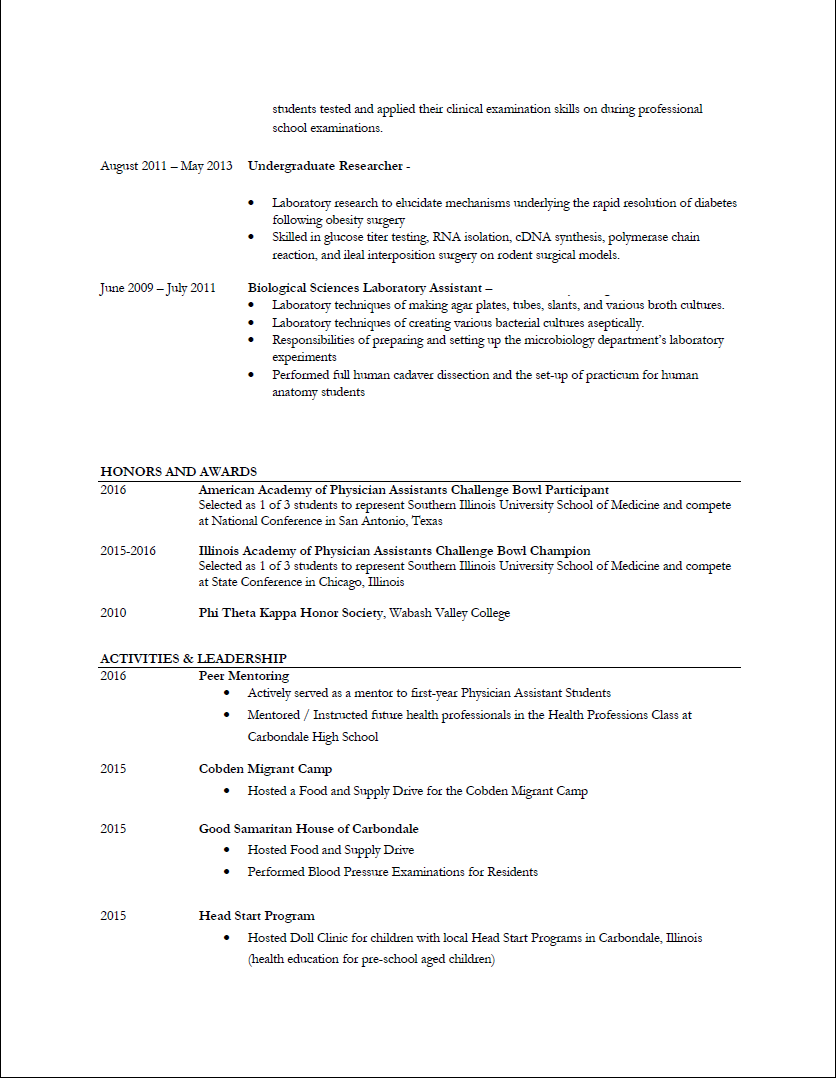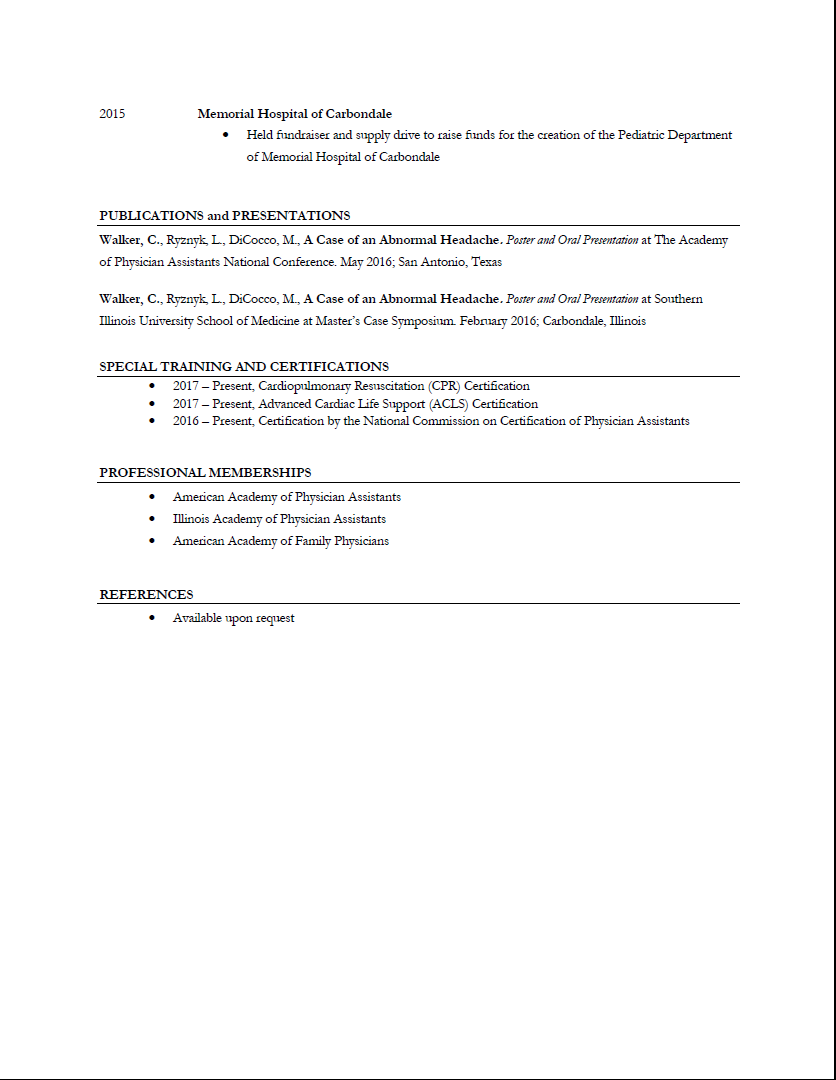 Professional Physician Assistant Resume/CV
Once you enter the workforce as a physician assistant, you will need to continuously update your resume and/or CV as you gain more skills; move or start new or additional jobs; and become involved in volunteer organizations or leadership roles.
Physician Assistant Resume Job Description
However, one of the biggest things that needs to be listed on your professional physician assistant resume is an accurate description of the position that you hold or have previously held.
This may include procedures or skill that you are proficient in, your daily job duties and expectations, as well as achievements in this position.
As an example, see the following descriptions for my first positions as a physician assistant out of PA school.
Internal/Family Medicine Physician Assistant

Aided the initial development of the clinic and saw patients full-time with one physician.
I provided care to patients of all ages and perform office procedures
Responsible for the acute and chronic care of a multitude of complex medical conditions, both inpatient and outpatient settings, in a rural area without prompt access to specialty care
Interventional Radiology Physician Assistant

Perform hospital and outpatient consultations for interventional radiologic procedures
Complete history and physical examinations, rounding, and pre-sedation assessments
Trained and complete interventional radiology procedures including peripherally inserted central catheters, central lines, paracentesis, thoracentesis, tunneled port placement, tunneled port removal, temp cath placement, perm cath placement, and ultrasound guided aspiration and biopsy
CV versus Resume
So, what is the difference between a CV and resume. Essentially when we boil it down, it is the length and level of detail.
Typically, the resume is briefer with less detail, whereas the CV is more comprehensive. The CV (Curriculum Vitae) in Latin means the course of life. This document can span several pages to describe the full detail of your career.
CV
Your Curriculum Vitae aka CV may include the following:
Contact Information
Research Objective, Professional Profile, or Personal Statement
Education
Professional Academic Appointments
Books Authored
Peer-Reviewed Publications
Other Publications
Awards and Honors
Grants and Fellowships
Conferences
Teaching Experience
Research Experience / Lab Experience / Graduate Fieldwork
Non-Academic Activities
Languages and Skills
Memberships
References
Resume
The resume however, is a brief, short, concise document used for job applications. The purpose of your resume is to give recruiters an overview of your work history and typically should only be one to two pages in length.
From my experience in the medical field, I have only been asked for my CV when applying for jobs, however, I still always keep an up to date resume along with my CV just in case!
In conclusion…
As with most things in life, there is more than one way to do something. Your Curriculum Vitae and resume are no different. As above there are some examples of how I wrote my initial CV as well as my job descriptions.
However, this format or style might not work for you and your experiences, and that is okay! You have to find what works for you, but including the aforementioned details on these respective documents are key to making your CV and resume shine! Until next time!
This article or blog post should not be used in any legal capacity whatsoever, including but not limited to establishing standard of care in a legal sense or as a basis of expert witness testimony. No guarantee is given regarding the accuracy of any statements or opinions made on the podcast or blog.