Along with working in an outpatient family medicine office, I typically work a couple of evenings in our rural town's local urgent care.In this clinic, I see a myriad of complaints and diagnoses. Anything from allergies, strep throat, URI, UTI, cellulitis, and cough to gastroenteritis or appendicitis.
A key thing in any setting like this is to know your bounds. Know what type of care you can provide in your facility and when a patient is higher acuity and needs emergent services that cannot be provided at your location.
Two cases clearly come to mind in which these patients had the same diagnosis. However, their treatments were vastly different.
The first was a 31-year-old who had a cough and congestion for the last two weeks. Vitals showed normal blood pressure, respiration rate, and pulse, but a temperature of 102 degrees. Pulse oxygenation was 95%. Further investigation on physical exam revealed rhonchi, with positive bronchophony, egophony, and tactile fremitus. Otherwise, the patient was healthy, except for a history of smoking.
The second patient was a 67-year-old who had a productive cough for three days with a fever of 103.4 degrees, respiratory rate of 32 respirations per minute, and pulse of 102. Pulse oxygenation was 88 percent at rest.
Examination revealed diffuse right-sided lung field wheezing with rhonchi and positive whispered pectoriloquy, bronchophony, egophony, and tactile fremitus. This patient noted that they were healthy other than a 55-pack year smoking history but had not seen a healthcare provider for many years.
Both of these patients were sent to radiology for a chest x-ray. Both of these patients had a lung infiltrate present on imaging and were diagnosed with pneumonia. The first was able to be treated with outpatient antibiotics. The second, once at radiology had a pulse oxygenation in the 70's and was sent next door to the ER and subsequently admitted for inpatient care of pneumonia.
As you can see, these are two very different endings to a similar diagnosis. A lot of this comes into play in the severity, treatment, and plan of care in patients with pneumonia. Today we will discuss the topic of community-acquired pneumonia (CAP) including the diagnosis and treatment.
Community-acquired pneumonia along with influenza is the 8th most common cause of death in adults in the United States. A study done in 2010 found out of 878,000 adults that were admitted into the hospital for a diagnosis of CAP, over 71% were over 65 years of age or older, and 15% needed further care in the ICU.1
In the U.S. the yearly health care costs related to pneumonia varies between 10.6 to 17 billion dollars, and this number is expected to increase as our population ages. Ninety percent of this cost is due to pneumonia cases that are required to have inpatient hospital care.
The most common etiology of CAP is Streptococcus pneumoniae. However, the incidence of other etiologic organisms has risen. An entire clinical picture should be assessed to look for other risk factors that may direct us towards less likely etiologies.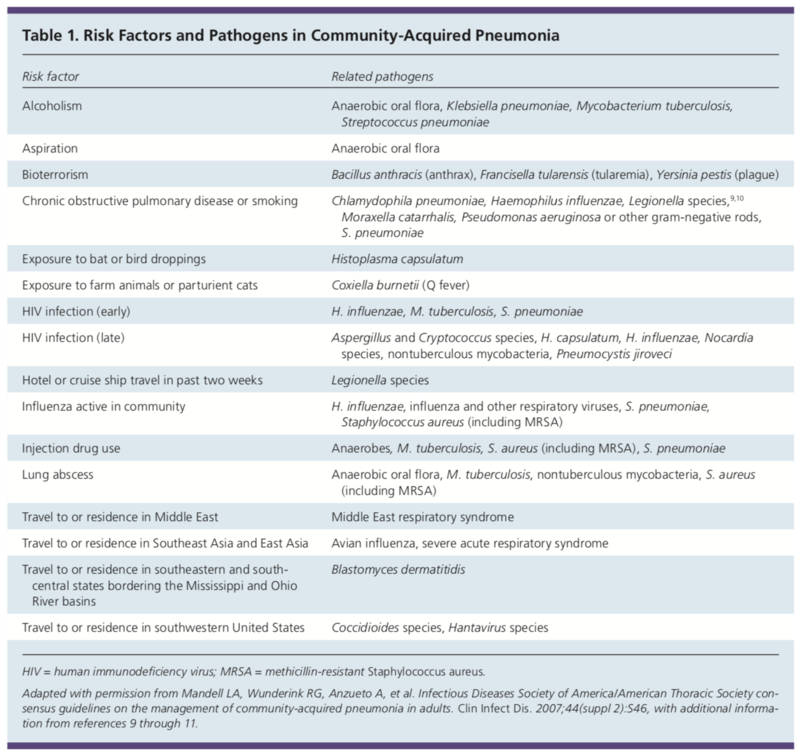 Patients with pneumonia can present with a plethora of symptoms including dyspnea, cough, wheezing, pleuritic chest pain, chills, fatigue, lethargy, or fever. The initial task is to evaluate the severity of the patient and triage their care appropriately. Next, is to complete a thorough history and physical examination.
No single symptom can accurately say if a patient has pneumonia or not. However, studies have shown that the most likely symptoms that predict CAP in patients with a productive cough are a fever over 100 degrees and the presence of egophony on examination.1
Prediction rules for CAP which look at a patient's symptoms and physical exam findings can aid in determining how likely the diagnosis may be and help with diagnosis and treatment.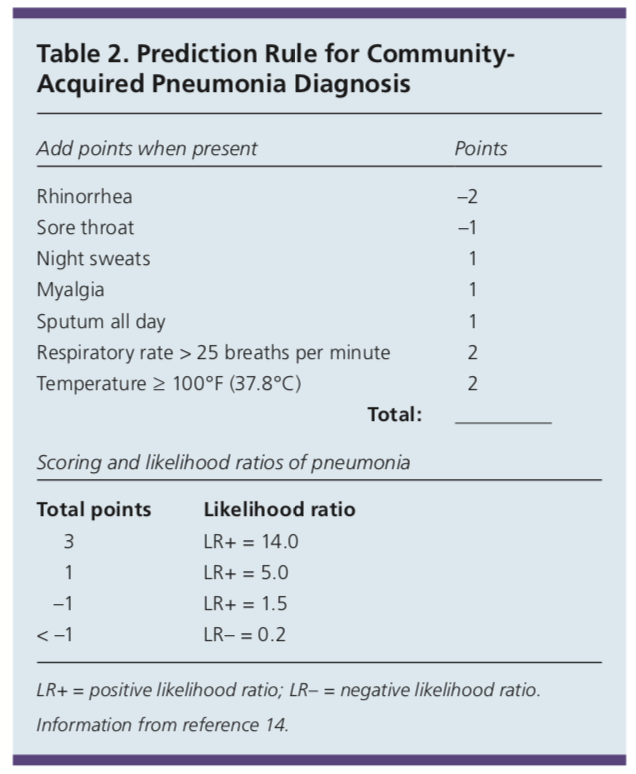 Studies have shown that patients who present with a cough who have normal vital signs and a normal examination, especially pulmonary examination, are unlikely to have pneumonia. Therefore, in those patients with abnormal vital signs or examination abnormalities, imaging is helpful to complete to assess for a pneumonia.1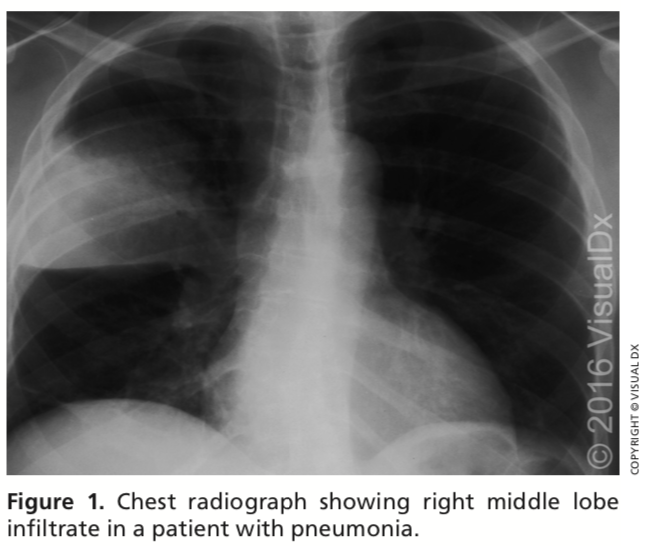 In all patients where there is concern of respiratory illness such as pneumonia, pulse oximetry should be completed. Microbiologic testing is not regularly needed in an outpatient setting, but if there are specific risk factors in which an unlikely etiology might be the cause, and thus change your treatment plan, these testings may be indicated as below.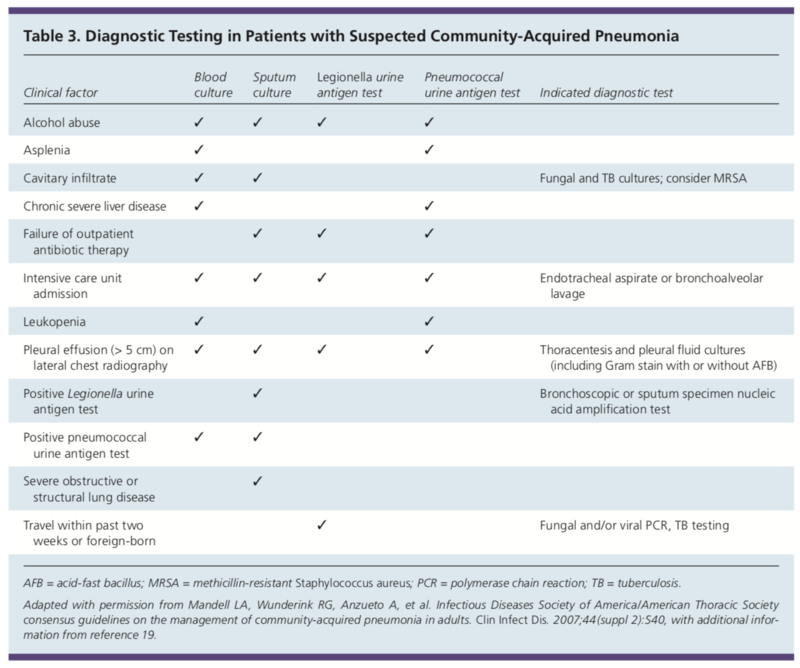 In patients with high-risk sexual exposure or history of intravenous drug abuse, testing for HIV, pneumocystis pneumonia, and tuberculosis should be completed. Blood and urine cultures should be completed in patients with severe pneumonia where the culture results would alter the treatment regimen.1
Whether a patient should be admitted or not for pneumonia can be difficult sometimes. Other times, it can be pretty clear-cut. Some tools to quantify a patient's illness and to aid in the decision-making process include the Pneumonia Severity Index (PSI) which aids in calculating the projected 30-day mortality and identifying cases needing intensive care.1
More commonly, the CURB-65 score is used, due to the ease of use, however, the 30-day mortality rate with this score is less accurate.1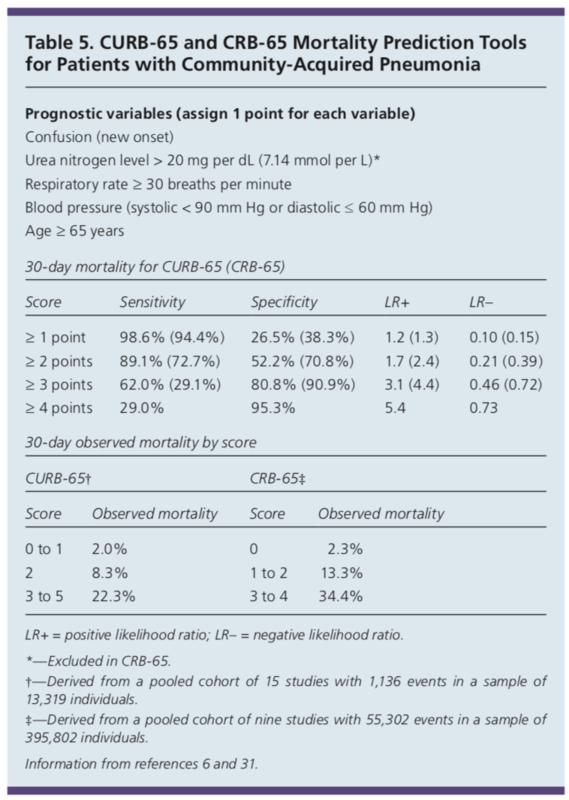 The treatment for CAP differs based on the location of the patient primarily (inpatient vs. outpatient). If a patient is healthy and has not been on any antibiotics in the last three months, they may be treated with Azithromycin or Doxycycline.
If a patient has been on antibiotics in the last three months or has other comorbidities including cardiac, pulmonary, kidney, or liver disease, or diabetes, alcoholism, malignancy, immunosuppression, or asplenia, treatment should be with a respiratory fluoroquinolone such as Levaquin, Gemifloxacin, or Moxifloxacin. Alternative options include a beta-lactam such as high dose Amoxicillin, Augmentin, Cefuroxime, or Cefpodoxime plus a macrolide.
If the patient is in the hospital, but not in the ICU, the recommended agent is a respiratory fluoroquinolone.Alternative therapy would be a beta-lactam plus a macrolide.
If in the ICU, treatment should include ceftriaxone, cefotaxime, or ampicillin/sulbactam plus a macrolide, or plus a macrolide and respiratory fluoroquinolone.
If there are risk factors for Pseudomonas, coverage with:
• Beta-lactam (piperacillin/tazobactam, cefepime, imipenem/cilastatin, Meropenem, or doripenem) plus;
◦ Either ciprofloxacin or levofloxacin, or
◦ An aminoglycoside and Azithromycin, or
◦ An aminoglycoside and an antipneumococcal respiratory fluoroquinolone
If there are concerns about MRSA infection, Vancomycin, Linezolid, of Ceftaroline should be used.
If influenza is the underlying cause, the patient should be treated with Oseltamivir or Zanamivir.
Remember that these antibiotic recommendations are a general guideline. Appropriate antimicrobial recommendations can fluctuate based on geographic location and microbial resistance patterns in that specific region. If you are practicing medicine or a student, it is always a good idea to contact your hospital pharmacist to acquire this data on local resistance patterns, which can help further guide you on proper antibiotic usage in your local area.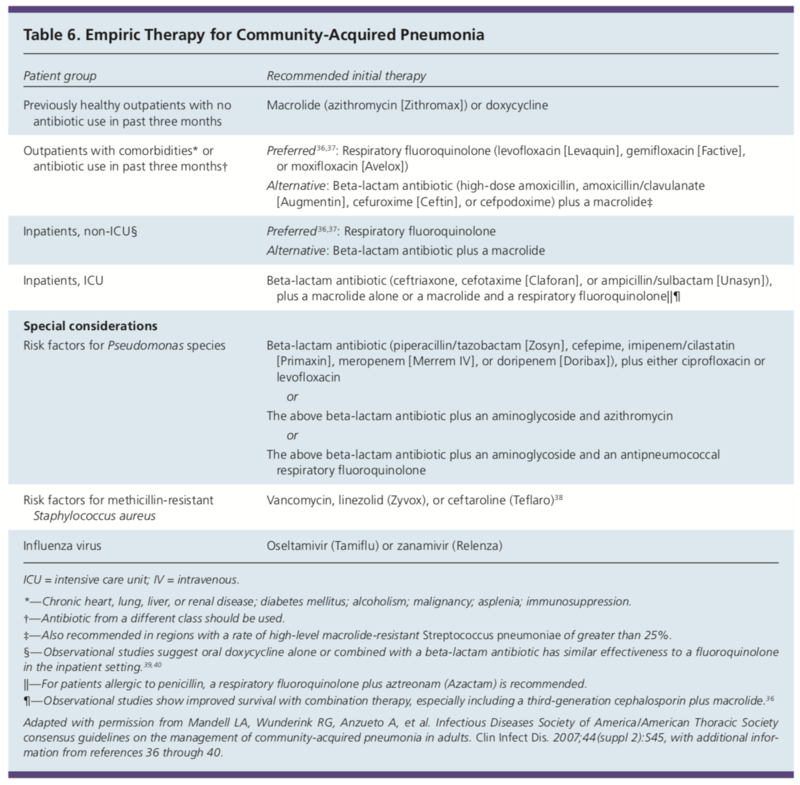 Adjunctive therapy with corticosteroids has shown decreased respiratory distress and reduction in the length of ICU and hospital stays. One study showed a 3 percent reduced rate of mortality with the use of Methylprednisolone 0.5 mg/kg every 12 hours for five to seven days.1
Regarding prevention of pneumonia, all patients aged 65 and older should receive the PCV13 and PPSV23.In those patients with diabetes, chronic lung or heart disease, liver disease, cirrhosis, CSF leak, cochlear implant, or smokers should receive the PPSV23 immunization once from 19 to 64 years of age.
Evidence also supports use of the influenza vaccine in prevention of pneumonia, hospitalization, and death, particularly in the elderly population.1
Resources
1. Am Fam Physician. Community-Acquired Pneumonia in Adults: Diagnosis and Management. 2016;94(9):698-706.
2. Ferri's Clinical Advisor. Pneumonia. 2017.
This article, blog, or podcast should not be used in any legal capacity whatsoever, including but not limited to establishing standard of care in a legal sense or as a basis of expert witness testimony.No guarantee is given regarding the accuracy of any statements or opinions made on the podcast or blog.