Preoperative Evaluation
Surgeries are ever so common nowadays.
They range from low-risk procedures where you leave the same day to ones that require a patient to be hospitalized for several days postoperatively. With each surgical procedure there are risks that are associated.
Even more importantly, each patient has their own set of risk factors, which pose unique and individualized challenges for every procedure.
The overall health history and medications list also play a role.
Today we will discuss the preoperative evaluation of a patient in the outpatient setting.
Around 27 million people in the United States undergo some type of surgical procedure yearly.1 Often the patient's surgeon will rely on you, the primary care provider, to complete a preoperative evaluation and to give medical clearance for the said procedure.
Identifying the Risk of Surgery
The preoperative evaluation's goal is to deduce the risk of complication and aimed to reduce the chance of these complications from occurring. It also gives the provider the opportunity to make recommendations on the perioperative management of a patient's medications.
The main focus on risk reduction prior to a surgical procedure is to assess a patient's cardiopulmonary risk of complications, largely due to the exposure to anesthesia. It is important to determine initially, however, if the preoperative evaluation is appropriate to be completed by the primary care provider, or if it needs to be completed by a specialist, such as a cardiologist or a pulmonologist.
Guidelines recommend that a specialist complete this visit if a patient has one of several conditions:
Congenital heart disease

Cardiac implantable electronic device

Moderate or greater valvular stenosis/regurgitation

Pulmonary hypertension

Severe systemic disease.

1
If none of the aforementioned diagnoses are present, the next step is evaluating the patient's cardiac risk.
Cardiac Risk Pre-Op
Two perioperative cardiovascular risk calculators can be used in the preoperative evaluation.
The Revised Cardiac Risk Index (RCRI) is the most well-known cardiovascular risk calculator used for preoperative assessment. It was founded in 1999, and has been verified in numerous medical studies.1 As you can see below, there are six criteria in the calculation of the RCRI score, with each additional criterion that is met, the likelihood of cardiac complication increases by a factor of 2 to 3.1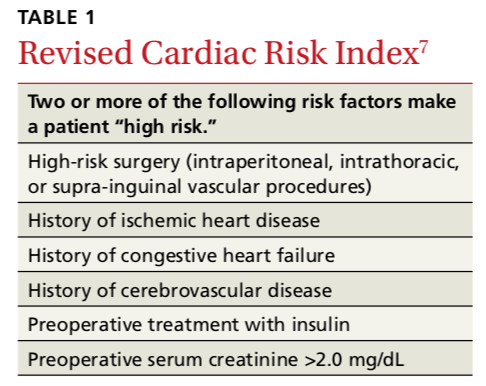 A newer calculator can be used which is the American College of Surgeons National Surgical Quality Improvement Program Calculator (ACS NSQIP). This calculator is a web-based calculator that was founded based on a study with 1.4 million patients. This calculator includes 22 questions that assess the patient's past medical history as well as the surgical procedure that the patient will be undergoing.1
The data that is given from the calculator not only gives a patient's cardiovascular risk of the procedure, like the RCRI, but also gives pulmonary, surgical site infection, discharge to nursing or rehabilitation, the risk of serious complication, and death risk percentages.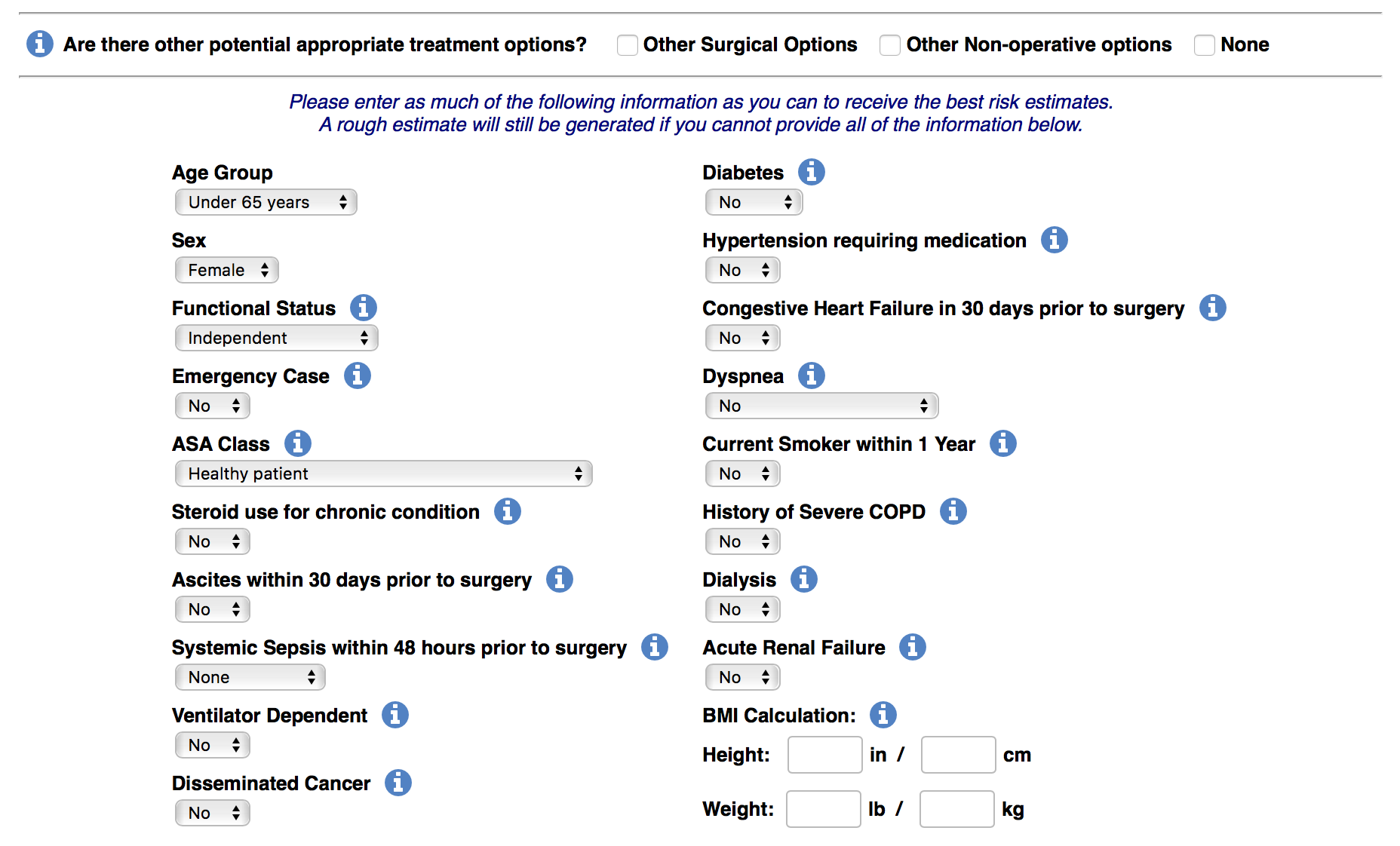 With all of the good about the ACS NSQIP calculator, there is some bad.
The ACS NSQIP is often questioned because other than the initial studies, it has never been tested and validated in separate trials or studies aside from the patient population from the initial development of the calculator.1
Another concern that has been brought up is that the calculator includes the American Society of Anesthesiologists' classification of the overall health of the patient, which is a subjective and an unreliable method of assessment of a patient's health.1
So now to the big question. Which one to use? There are good and bad things about both. The ACS NSQIP gives ample data including more risk percentages based upon several different body systems; however, there is some subjectivity which is unwanted in these instances. The RCRI is tried and true, and is straightforward to use. However, it only includes the cardiovascular risk of a patient and does not assess other body systems like the ACS NSQIP.
Thankfully, both of these calculators are approved for use by the American College of Cardiology/American Heart Association, so the only way you will be in the wrong is by not doing one at all!
High vs Low Risk
The next step is assessing whether your patient is at high or low risk based on the results given from the aforementioned calculators. If your patient is low risk (RCRI <2 or ACS NSQIP cardiac complications 1%) then the patient can proceed to the surgical procedure without further evaluation.
If the patient scores higher, then a patient's functional capacity should be questioned. If a patient has the ability to complete activities that are at least equivalent to >4 metabolic equivalents (METs), then the patient can proceed to surgery.
Activities that are greater than 4 METs include climbing a flight of stairs, walking up a hill, sexual intercourse, bowling, golf, dancing, doubles tennis, throwing baseball/football, and yard work such as raking leaves, weeding, or push mowing.
If a patient is unable to complete activities that are greater than 4 METs, then a referral to a cardiologist for cardiac clearance is warranted, and further risk assessment with cardiac stress testing may be needed.
Stress testing has come into question, however, due to the fact that if a patient in this situation has an abnormal stress test, this will often lead to cardiac catheterization and potentially cardiac stent placement, both of which have not been shown to reduce cardiovascular surgical risk.1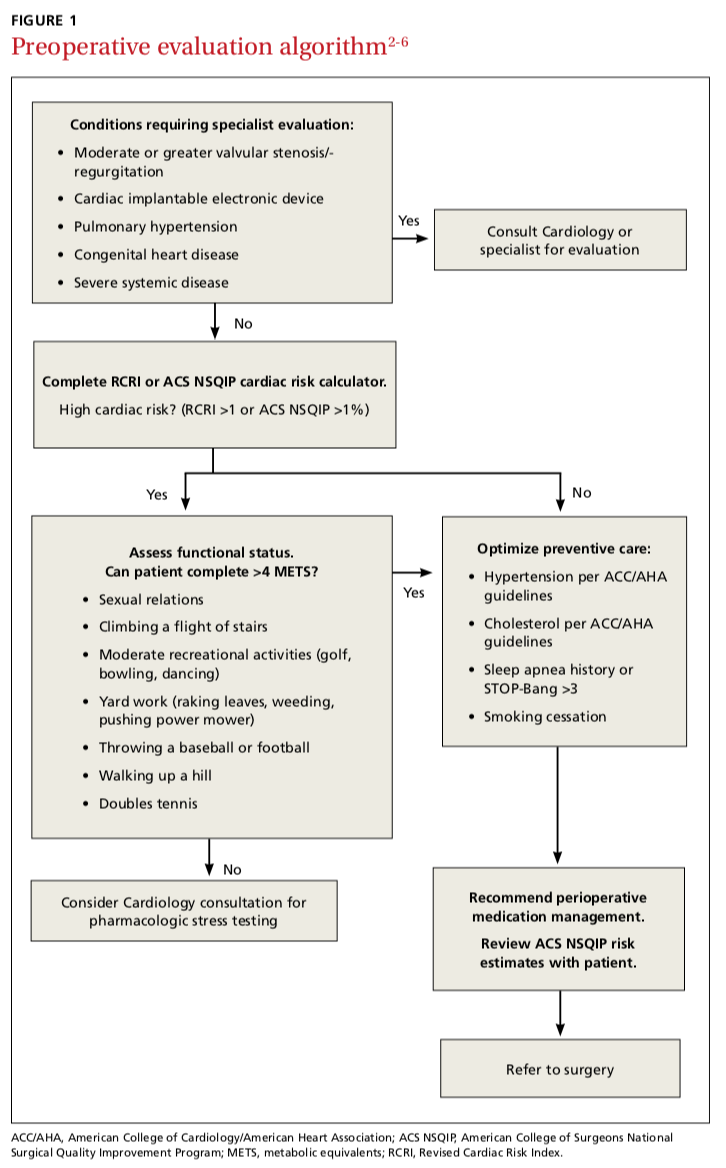 Surgeons or anesthesiologists will often require a preoperative EKG or echocardiogram in patients prior to a surgical procedure. However, the benefit of these tests has come into question, and the 2014 ACC/AHA recommends against these tests in patients who are low risk for cardiac complications or those undergoing a low-risk procedure, such as an endoscopy or cataract repair.1
In patients who are asymptomatic echocardiogram is not recommended. This testing is only recommended in those with clinical signs of heart failure or unexplained shortness of breath. The ACC/AHA recommends that patients with known heart failure have an echocardiogram completed within a year prior to the procedure.1
Chronic Conditions That Place The Patient At Risk
Other things to take into consideration preoperatively is the control of a patient's chronic conditions. These primarily include hypertension, hyperlipidemia, and sleep apnea. In regards to hyperlipidemia, there is some evidence that supports starting a statin preoperatively as long as it is 30 days before the procedure. This is supported by a study that showed a significant reduction in cardiac complications, as well as a reduction in postoperative acute kidney injury.
All patients should be screened for obstructive sleep apnea with the STOP-BANG score before surgery. If a patient has sleep apnea there is an increased risk of respiratory failure two to three times as high as a patient without, and an increased risk of cardiac complication of 1.5 times greater than those patients without sleep apnea.
If a patient has sleep apnea the surgeon as well as anesthesia should be notified due to the risk that the patient may need extra cardiopulmonary support in the perioperative period.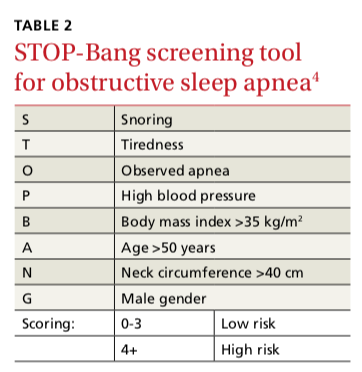 Smoking is another important risk factor to address. Past studies have shown that if a smoker is to quit smoking greater than two months before the procedure that there was a reduction in pulmonary complications, whereas if they were to quit less than two months prior there was an increased risk of pulmonary complications.
However, a more recent study showed that there is a trend toward reduced overall complications if a patient quits smoking preoperatively, no matter how close they are to their procedure date.1
Last but not least is the medication reconciliation. This can be daunting in some patients who have a grocery list of medications; however, this part of the preoperative assessment is equally important.
We will go through several classes of medications, and what to recommend to patients regarding which ones to take, and which ones not to take around the time of their surgery.
The first group of medications we will discuss are the antihypertensive agents.
Beta blockers: if on beta-blocker therapy prior to the surgical procedure, they should continue this medication in the perioperative period.

Beta blockers should not be started preoperatively in those who are not on them routinely due to an increased incidence of strokes.

Calcium channel blockers: if on calcium channel blocker therapy prior to the surgical procedure, they should be continued the day of surgery.

Renin-angiotensin system antagonists: ACE inhibitors and ARBs should not be taken for at least ten hours prior to surgery due to the risk of hypotension following exposure to anesthesia.

Diuretics: can be given or held the day of surgery.

Giving these medications increase the risk of hypovolemia, hypotension, and electrolyte abnormalities, and due to this will often be held.
The next group of medications are those for diabetes.
Basal insulin: for those with type 1 diabetes, 0.2 to 0.3 units/kg/d should be taken the day of the procedure.

If the patient uses an insulin pump, the basal rate should be continued as well.

For type 2 diabetics, half of the usual dose of basal insulin should be taken the day of the procedure.

Metformin: should be held 24 hours prior to procedure due to increased risk of inducing lactic acidosis.

Sulfonylureas: should be held the day of the procedure due to the risk of hypoglycemia and ischemia.

Thiazolidinediones, GLP-1 agonist, and DPP4 inhibitors: should be held on the day of the procedure.
Next is anticoagulant medications.
Warfarin: should be stopped five days prior to the procedure.

Use of bridging therapy with regular or low molecular weight heparin is controversial due to the increased risk of bleeding during surgery without evidence of reduced cardiovascular risk.

Overall the patient's risk of VTE and stroke should be accounted for when considering bridging therapy.
Aspirin, Clopidogrel, Ticlopidine, and Prasugrel: should be stopped 7 to 10 days prior to the procedure.

Low dose aspirin for secondary cardiac event protection, or for primary risk prevention in patients who are high risk may be continued through surgery.

Factor Xa Inhibitors and Direct Thrombin Inhibitors: When to discontinue these medications is dependent upon the patient's renal function (creatinine clearance) and their risk of bleeding.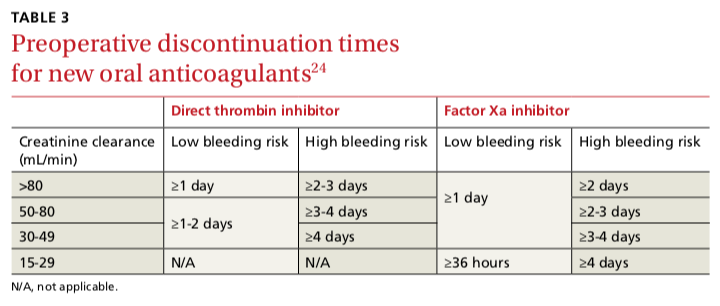 Lastly some other commonly used medications to consider.
Corticosteroids: those who are on chronic maintenance steroids should continue their normal regimen.

Stress-dose steroids are no longer recommended in asymptomatic patients preoperatively to prevent adrenal insufficiency.

If a patient has symptoms of adrenal insufficiency, then stress dose steroids are recommended.

Statins: should be continued on the day of surgery.

NSAIDs: should be stopped five days before the procedure to aid in the reversal of any antiplatelet effects.
Resources
The Journal of Family Practice. Preoperative Evaluation: A Time-Saving Algorithm. 2016.

Accessed: August 31, 2018.

The Prescriber's Letter. Perioperative Management of Chronic Medications in Noncardiac Surgery. 2017. Accessed: August 31, 2018.

Am Fam Physician. Perioperative Cardiovascular Medication Management in Noncardiac Surgeries: Common Questions. 2017;95(10):645- 650. Copyright © 2017 American Academy of Family Physicians