Urine Drug Screening
Whether you have patients who are on chronic opioids, stimulants, or benzodiazepines...
...or who are on short-term controlled substances such as a diet medication, the use of prudent drug screening is required and appropriate.
This testing is a crucial part of managing these medications, especially those who are on them long-term.
The purpose for drug testing is to make sure our patients are being compliant with their prescribed medications, as well as to detect the use of nonprescribed and illicit substances.
However, primary care providers cannot solely rely on urine drug testing alone to determine if a patient is adherent to their medications, nor can the testing detect intermittent use of nonprescribed substances.
Additional tools that can be helpful in monitoring patients include a history examination using tools such as the Opioid Risk Tool, Pain Medication Questionnaire, and Addiction Behaviors Checklist, a full physical examination, and use of prescription monitoring profiles.
Some things that a healthcare provider must note, prior to ordering a urine drug test, are:
The last time the patient took their prescription medication (to aid in determining the likelihood of a positive test)

Whether any other prescription medications are taken that might cross-react

Whether any nonprescribed or illicit drugs were used
The next step is determining how frequently you are going to complete testing on your patients. The American Pain Society and CDC recommends periodic testing to assure adherence to the prescribed treatment plan, but the actual frequency is left up to the ordering provider. It is generally recommended that those patients who are at higher risk of medication or drug misuse, or those with abnormal behaviors, be tested more frequently.
Below is a table of recommended frequencies for urine drug testing based upon a patient's risk factors for drug misuse.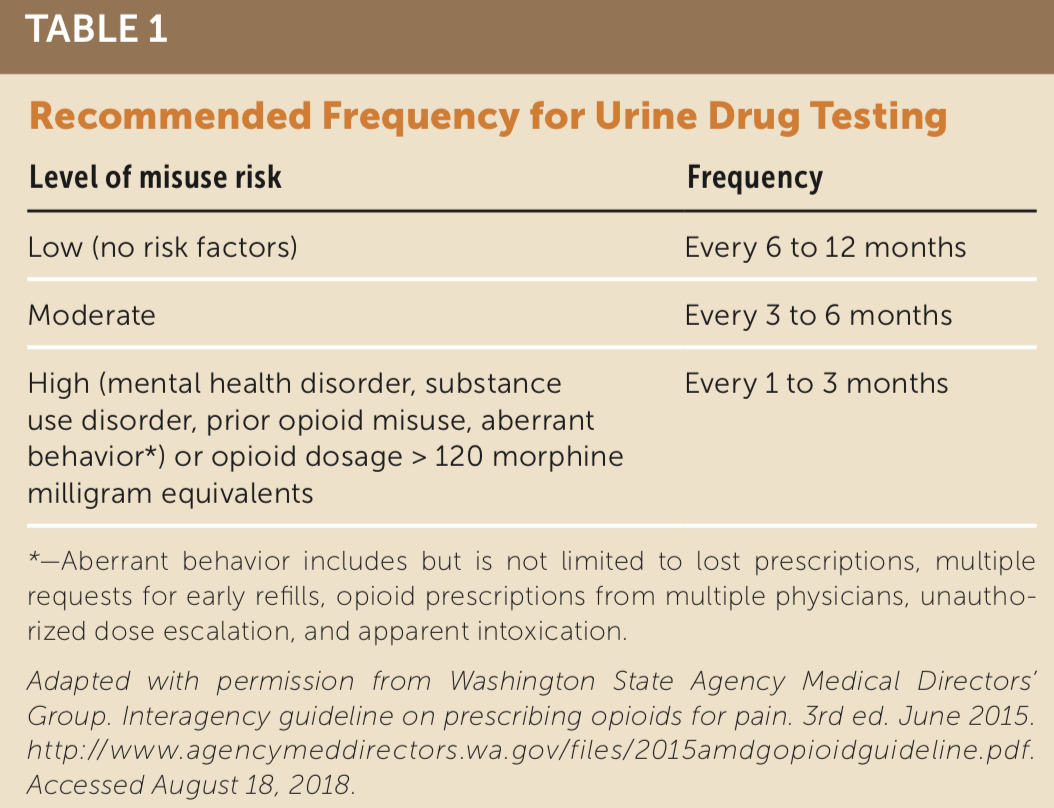 Performing a Urine Drug Screen
Regarding testing, we are focusing on urine testing; however, serum, saliva, hair, and sweat can also be collected for testing. Urine testing is most commonly used due to the ease of collection, longer window of detection, and satisfactory sensitivity and specificity.
Urine drug concentrations do not reflect serum concentrations of a drug; however, they are a function of how quickly an individual breaks down and eliminates the drug and its byproducts.
Properly completed urine drug testing involves two steps: an initial screening test followed by confirmation testing for substances when there is a positive screening test.
Additionally, confirmatory testing is also needed when there is an unexpected negative result (such as a patient who is prescribed opioids chronically, but the testing is negative for opioids) to determine a false negative from a true negative result.
The initial screening test is often an immunoassay that will test for the five major drug classes that are routinely targeted by workplaces: opioids, cannabinoids, amphetamines, cocaine, and phencyclidine.
Those tests that yield positive results or those that are unexpectedly negative should be sent for confirmatory testing. Often these tests can be ordered to reflex to confirmation automatically when these results occur to avoid a second order.
However, if this is not the case for your practice, you must be familiar with the tests that the laboratory uses. Typical testing can detect only non-synthetic opioids such as morphine and codeine.
Additionally, routine immunoassays will detect illicit substances such as cannabis or cocaine; however, they will not routinely detect synthetic or semisynthetic opioids such as methadone, oxycodone, buprenorphine, fentanyl, or oxymorphone, nor does it aid in distinguishing between opioids.
Many benzodiazepine immunoassays will reliably detect nordiazepam (breakdown product of diazepam), temazepam, and oxazepam, but not alprazolam, clonazepam, or lorazepam. Therefore, just like with opioids, a positive or suspected false negative screening result must be followed by confirmatory testing, as well as with orders for specific medications that you want testing on if needed by the testing laboratory.
Therefore, many laboratories will request specific orders to test for semisynthetic and synthetic opioids, benzodiazepines, or other drugs of concern.
Confirmation testing often will use gas or liquid chromatography to separate various substances, and then mass spectrometry to detect what the substance actually is. This testing has a much lower threshold for detection and is able to recognize individual drugs and metabolites.
However, this testing as you can imagine is quite expensive, and should not be ordered for every drug; however, providers should direct their testing to what medications the patient is or should be taking, or if there is suspected abuse of another substance.
Below is a table of commonly tested drugs, the metabolites detected, and the window of detection.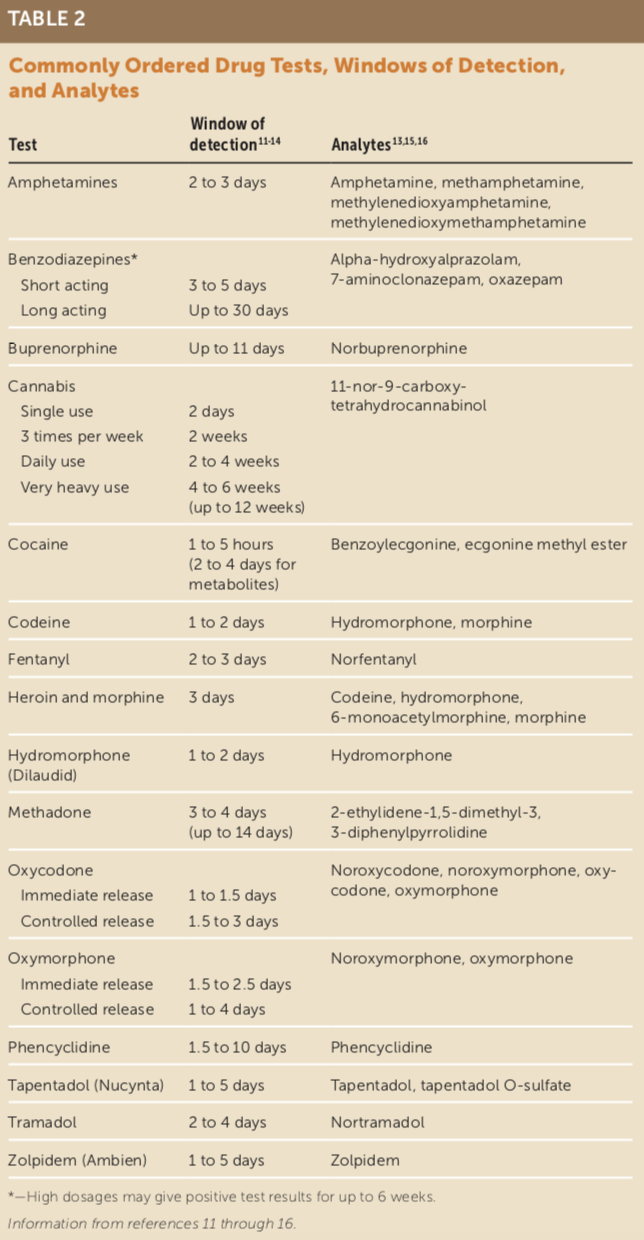 Most recently, there have been cases of synthetic cannabinoids, cathinones, and hallucinogens that are being sold. Often, commercial urine drug testing will not identify these due to the varying composition of these drugs. If abuse of any of these items are suspected, urine and blood specimens should be sent to special laboratories that are able to detect these substances.
Interpreting the Urine Drug Screen
Next, lets discuss the interpretation of urine drug screen testing results. Many drugs and medications are rapidly metabolized into active or inactive metabolites. Drug testing is dependent upon identifying these breakdown products.
However, this can be difficult as you can imagine. Opioids and benzodiazepines include multiple drugs in which their metabolic breakdowns overlap.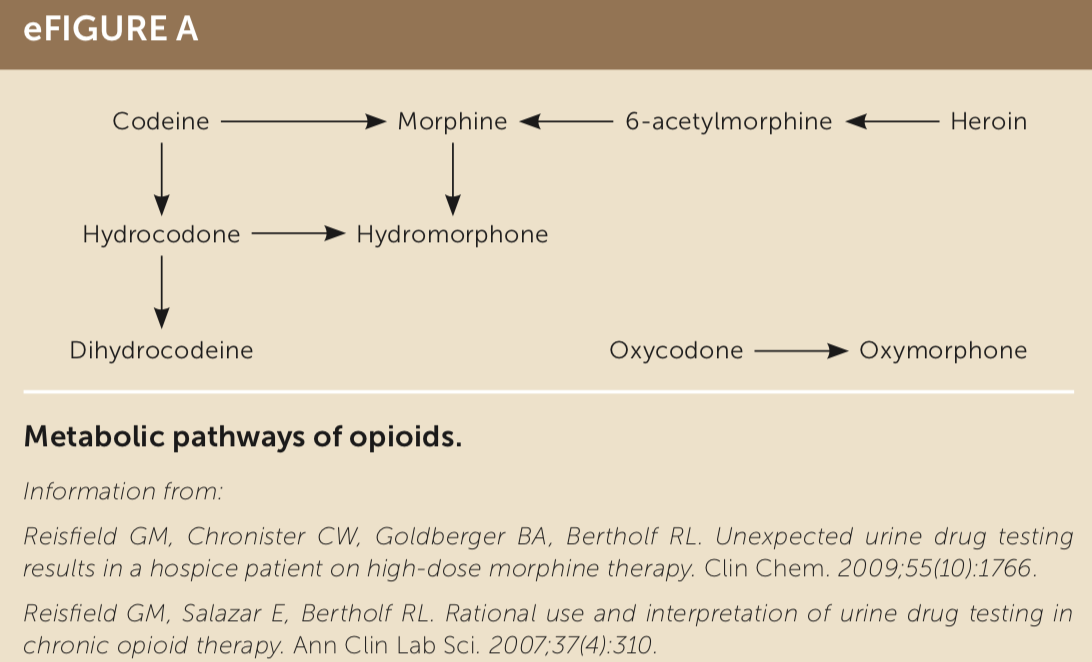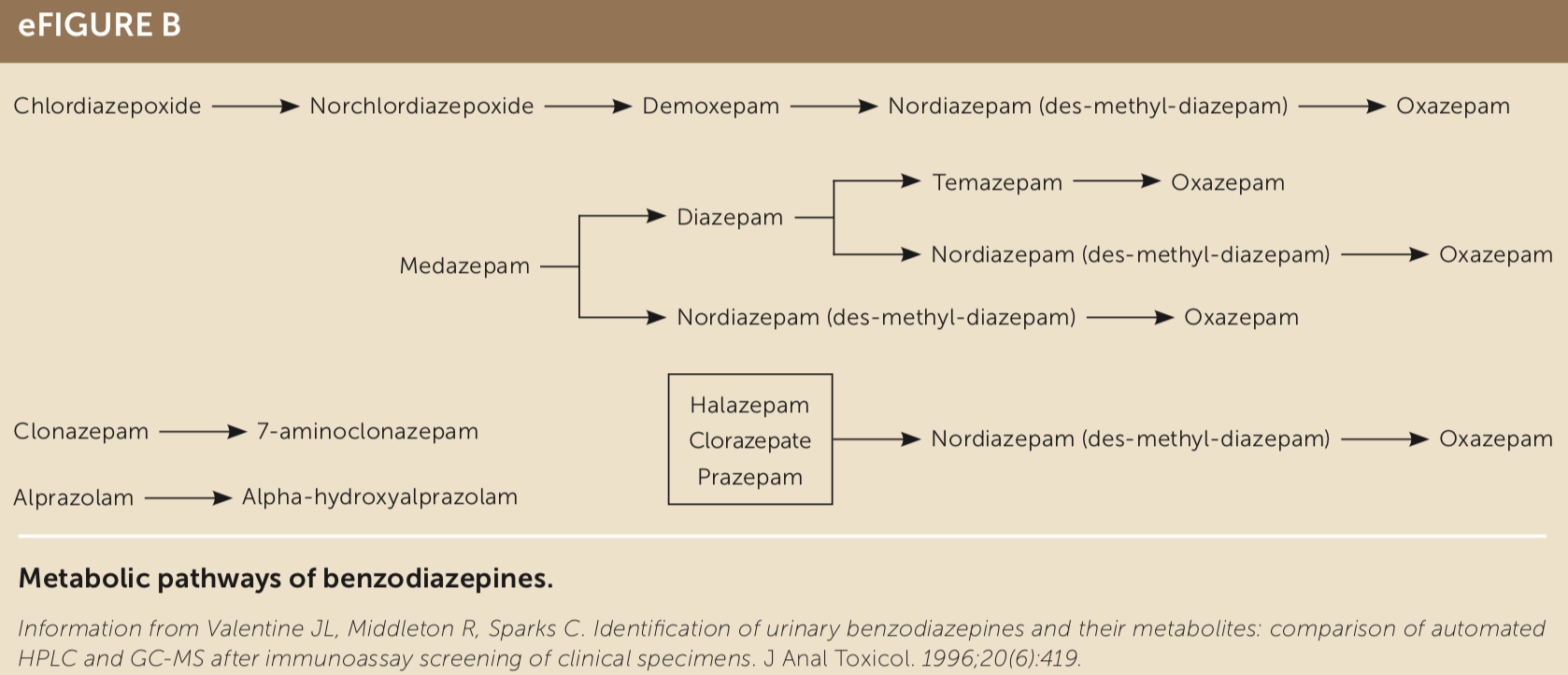 Example being morphine. If this is present, it means that a patient could have used morphine, heroin, or codeine, or any combination of these drugs.
Another example would be hydromorphone, where a positive result could be due to hydromorphone, morphine, or hydrocodone use.
False Positives
False positive results can occur from cross-reactions between commonly used medications. Below is a list of common medications that can lead to false positive results.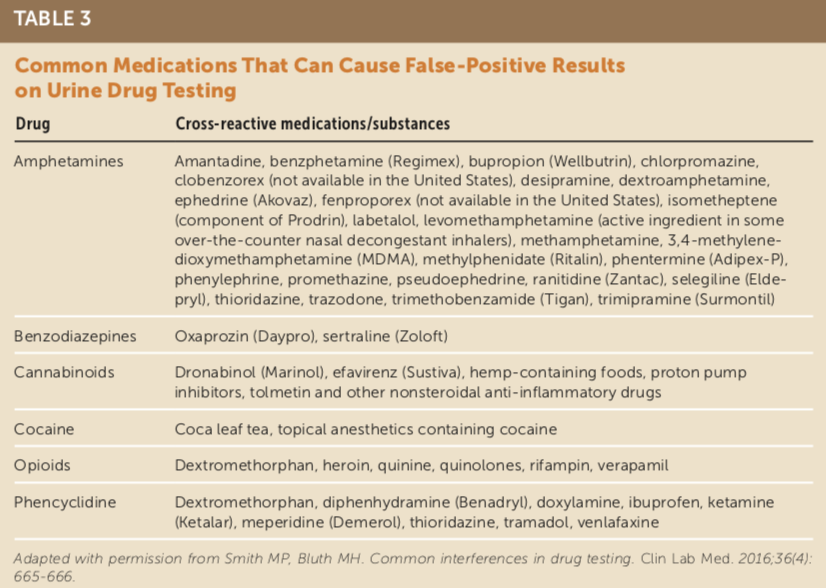 False Negatives
Negative results are more difficult to interpret, especially when a patient is expected to have a positive result due to medications that they are being prescribed. True-negative results occur when a patient is not taking a medication as prescribed and there are no drug or drug metabolites in the sample, or when the drug is broken down so quickly that the by-products are eliminated before they can be detected.
False negative results occur when a drug or metabolite is present but at such low levels that it cannot be detected on testing. Confirmatory testing is thus used to differentiate between false and true negative results.
The use of heroin with opioids is concerning for the prescriber and can be difficult to distinguish with routine immunoassay testing. Both of these drugs will give positive results for opioids; however, confirmation is needed where if a patient is using heroin they will also be positive for 6-monoacetylmorphine.
This metabolite, 6-monoacetylmorphine, has a short half-life of around two to eight hours. Due to this, acetylated-thebaine-4-metabolite glucuronide has been found as a breakdown product of thebaine which is found in street heroin, and is proposed as a new marker to differentiate morphine and codeine from heroin use.
Tampering with samples is always a concern that can come to mind when testing a patient's urine for drug screening purposes. This can be done purposely with ingestion or addition of foreign substances that aim to prevent the detection of illicit substances.
Common ways that are used to tamper a sample include dilution with water, substitution of samples, and the addition of substances. The table below lists items that may be used to help disguise illicit drugs in urine samples.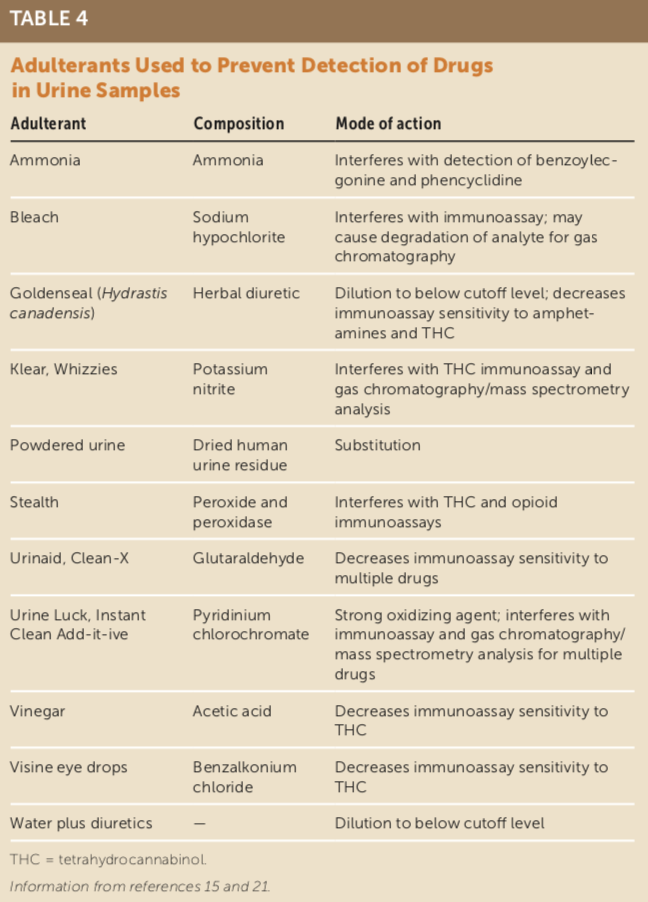 Many labs will now check urine creatinine levels to determine if a sample is excessively dilute and to check for contamination. Another practice to keep in mind is one called "shaving".
This is where a patient is not taking their medication as prescribed so they will put a small amount of the drug into the sample to avoid a negative result. In these cases, the test will return positive; however, it will be at a high concentration, and the drug metabolites will not be found.
If this is seen on results, then suspicion of medication nonadherence should enter the provider's mind. The table below lists possible unexpected results from urine drug testing and potential causes for them.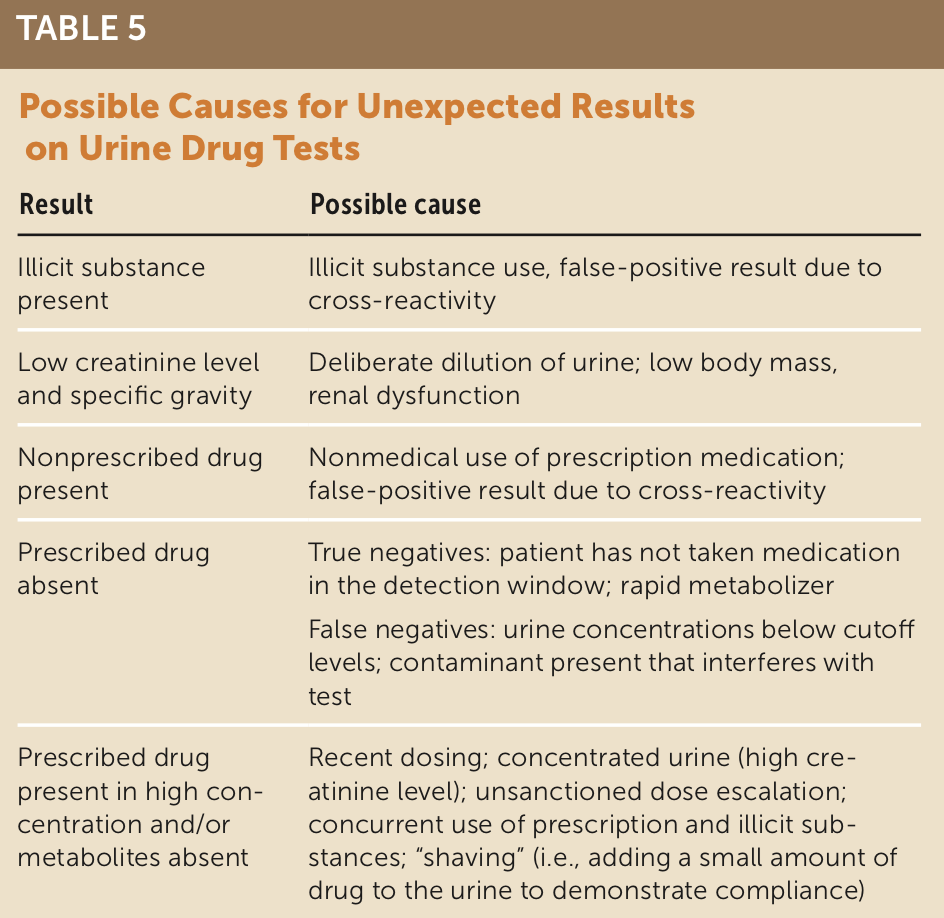 Sometime there will be instances where there are unintentional ingestion or exposures that will lead to a false result. Ingestion of poppy seeds is sometimes claimed to give a positive opioid test result. Studies have shown that ingestion of poppy seeds may show positivity with morphine and codeine; however, the levels seen in studies were far below the cutoff of immunoassay testing to show a positive result.
Another concern of patients will be that of passive marijuana smoke inhalation. Studies have shown that although causal passive inhalation of marijuana smoke does cause the presence of THC in urine samples, the amount excreted into the urine is far below the federal cutoff for testing and should not cause a positive test result.
However, extreme exposure and high room air concentrations of THC were required to cause positive urine screening results in studies.
We hope this recap was helpful! If you'd like more clinical review, make sure to check out our podcast here.
Resources
Am Fam Physician. Urine Drug Tests: Ordering and Interpretation. 2019;99(1):33-39. Copyright © 2019 American Academy of Family Physicians.

UpToDate. Testing for Drugs of Abuse. Accessed: March 24, 2019.

UpToDate. Prescription Drug Misuse: Epidemiology, Prevention, Identification, and Management.

Accessed: March 24, 2019.