USC Physician Assistant Program
By
Clay Walker
- Jul 21, 2020
USC Physician Assistant Program
Today we will be discussing one of several physician assistant programs in the state of California; The Physician Assistant Program at The Keck School of Medicine at The University of Southern California.
Admission Requirements
The requirements for admission into USC's PA program include:
Successful completion of a bachelor's degree
The recommended pre-requisite coursework
Minimum cumulative GPA of 3.0 on a 4.0 scale
All science course must be completed by the end of the fall semester the year prior to graduation with a minimum GPA of 75
Program Requirements
When looking at the specific USC PA program requirements in pre-requisite coursework; student must have the following:
One year of studies in biology, chemistry, or microbiology
Human anatomy with lab
Human physiology
Statistics
Psychology
Beginning Spanish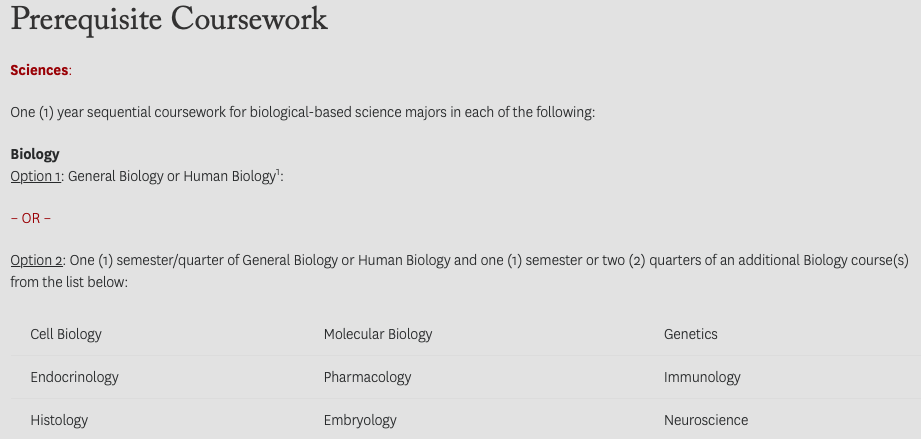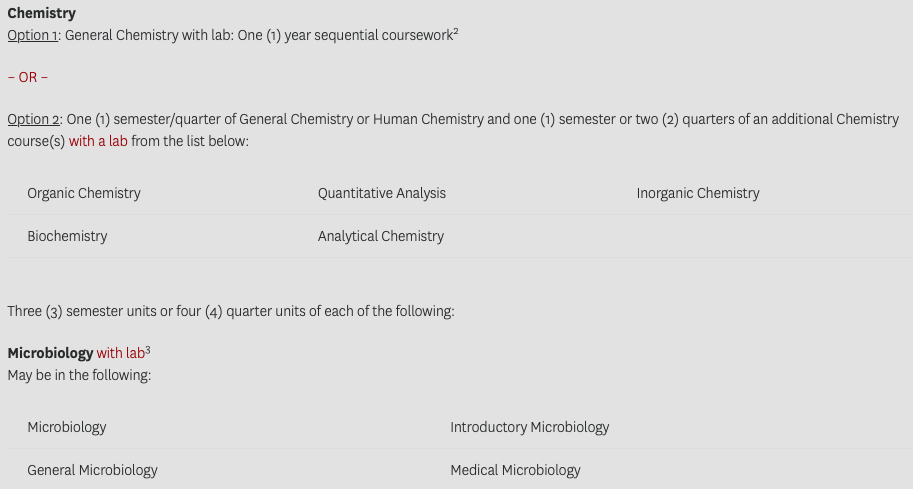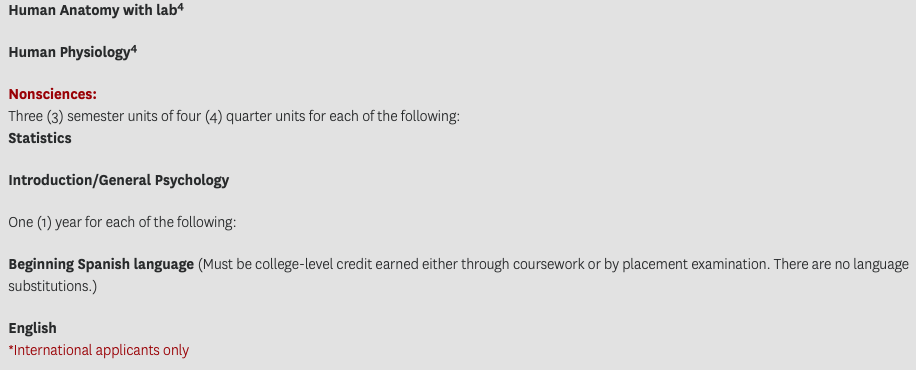 Testing Requirements
In addition to the course work for the USC PA Program requirements, students are required the completed the Graduate Record Examination (GRE) or Medical College Admission Test (MCAT). This test must be completed within 5 years of the application cycle.
Clinical Experience
Lastly clinical experience prior to the application cycle is recommended and often also required. Check out these two articles on shadowing as a pre-PA student as well as how to get into PA school!
Length of a PA Program
Physician assistant programs typically will range in length from 2-3years. A question that you may be asking is, how long is USC PA program? The answer is - 33 months.
USC's PA Program Curriculum
Over this time, students will cover general sciences including anatomy, physiology, genetic, pharmacology, cross-cultural communication, health behavior, clinical skills including patient interviewing, history-taking, written documentation, the physical examination, laboratory and radiology evaluation, nutrition, principles of primary care, medical Spanish, professional development, and clinical training.
The layout of the program is as below!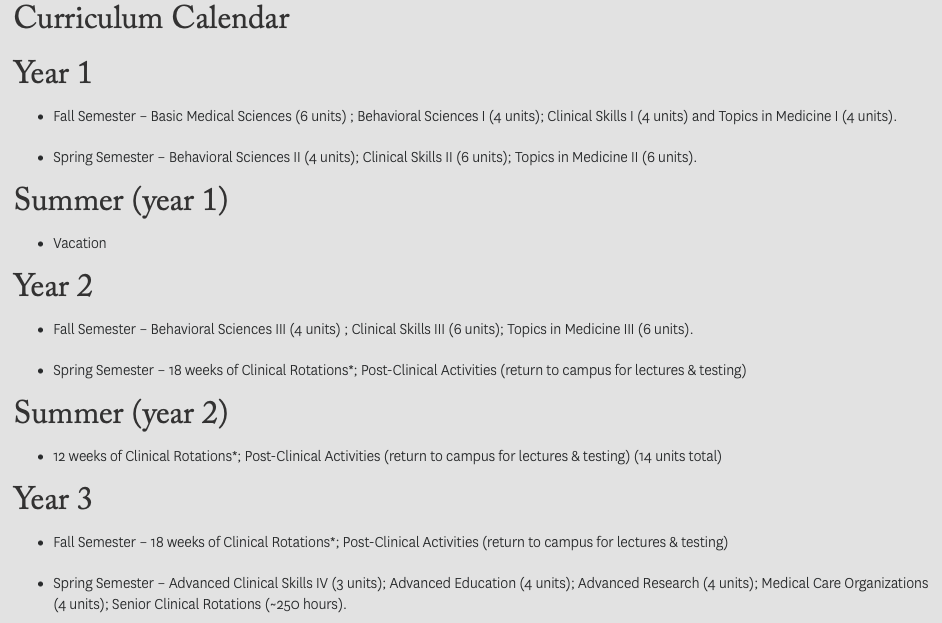 Components of the USC Curriculum
Within each of the aforementioned curriculum components, these are broken down further:
Behavioral sciences I-III

Growth and development/Sexuality, Death and Dying, Introduction to the PA Profession, Introduction to Research, Cultural Competency, Medical Spanish, Health Promotion, Ethics, and Service-Learning Activities

Topics in Medicine I-III

Psychiatry, Dermatology, Hematology, Endocrinology, Infectious Disease, HIV, Ophthalmology, ENT, Neurology, Orthopaedics, Pulmonology, Cardiology, GI, Urology, Nephrology, Rheumatology, Women's Health, Pediatrics, Geriatrics, Surgery, Emergency Medicine, and system-based pharmacology, pathology, and pathophysiology

Clinical Skills I-III

Interviewing, Documentation and Oral Presentations, BCLS, Physical Examination, Technical Skills (Bandaging & Splinting, Endotracheal Intubation, Casting, Drug Orders, Suturing, X-ray Interpretation, etc.), Breast, Pelvic and Male Exams, Clinical Reasoning, and ACLS.

Basic Medical Sciences

Anatomy, Physiology, Introductory Pathology, Cadaver Lab.

Clinical Assignments

Family Medicine (includes integrated behavioral/mental health experience), Pediatrics, Women's Health, General Surgery, Orthopedics, Emergency Medicine, Inpatient Internal Medicine. There is also a primary care selective, where students have a 6-week rotation in an additional family medicine, pediatrics, women's health, or outpatient internal medicine.

Advanced Topic Seminars

Research (Literature Review, Institutional Research Boards, Methodology and Capstone Project); Education (Community Health Promotion – Disease Prevention, Patient Education, Board Review Seminar); Medical Care Organizations (Health Care Structure; Financing; Billing and Coding).

Clinical Skills IV

Clinical Assignment IX – Senior Year Clerkship, Clinical Practice Preparation (personal & professional Development, resume writing, mock interviews)

Clinical Performance Examination

A summative evaluation, using standardized clinical cases, is completed during the final semester to assess each student's preparedness to graduate.
How much is this going to cost me?
Lastly, we are going to discuss cost of physician assistant school. The average cost of PA school is generally between $70,000 to $80,000. However, the cost of physician assistant school in California is much more expensive, as this is the most expensive state to attend physician assistant school in the United States.
So, to answer the question of, what is USC PA Program tuition? Per their website, tuition is $187,160. This tuition is further broken down in the chart below.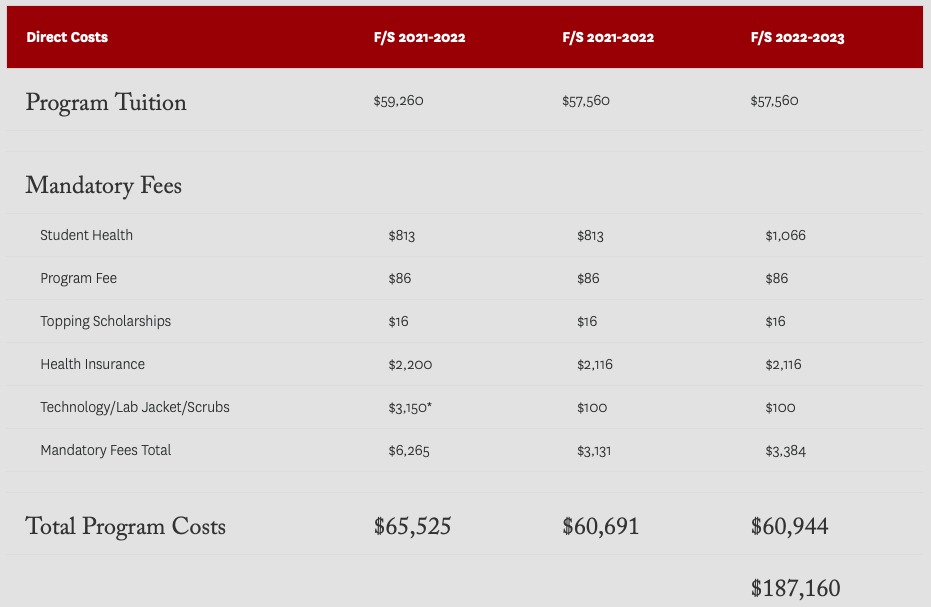 To see further information on the cost of PA school in more states and at more physician assistant programs, check out our article on PA School Cost here!
Resources
This article or blog post should not be used in any legal capacity whatsoever, including but not limited to establishing standard of care in a legal sense or as a basis of expert witness testimony. No guarantee is given regarding the accuracy of any statements or opinions made on the podcast or blog