Vertigo Diagnosis and Treatment
Last week we discussed the evaluation and workup of the chief complaint of dizziness.
Additionally, during that article, we talked about several possible etiologies including peripheral and central causes of dizziness.
Today we will delve deeper into these diagnoses and their treatments.
Peripheral causes of dizziness are caused by abnormalities in the peripheral vestibular system of the ear. This system includes the semicircular canal, saccule, utricle, and vestibular nerve. Common peripheral causes of dizziness include Meniere disease, BPPV, and vestibular neuritis.
Benign paroxysmal positional vertigo (BPPV)
This occurs when loose otoconia (canaliths), become dislodged and enter the semicircular canals, typically the posterior canal.1 BPPV can occur at any age, but is more common in those from 50 to 70 years of age. In most patients, no cause for BPPV is found, but in younger children with BPPV, head trauma is a possible cause of disease.
Treatment of BPPV consists of canalith repositioning with Epley maneuvers, which aids in movement of canaliths from the semicircular canals into the vestibule. The success rate of resolution of symptoms with Epley maneuvers is around 70 percent with one attempt and nearly 100 percent resolution rate with successive trials.1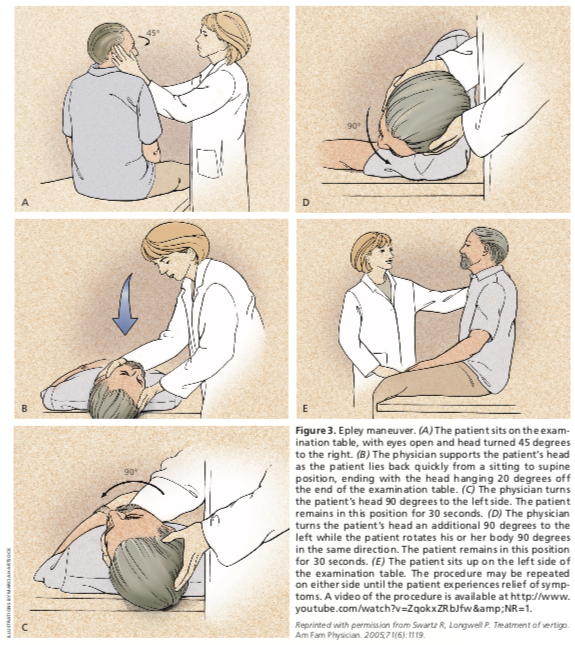 Home treatment of benign paroxysmal positional vertigo can be trialed with Brandt-Daroff exercises. If there is no improvement with repeated repositioning techniques, or if there is atypical or persistent nystagmus with nausea, other etiologies and diagnoses should be considered.
Medication options have no role in the treatment of BPPV. Vestibular suppressant therapies should be avoided because they may interfere with central compensation and can increase the risk of falls.
Vestibular Neuritis
The second most common cause of vertigo is vestibular neuritis. This diagnosis is thought to be due to a viral illness, such as an upper respiratory infection. It most commonly affects patients who are 30 to 50 years of age and affects men and women equally.
Vestibular neuritis is diagnosed based on the history and physical examination. Vestibular neuritis can lead to severe vertigo with nausea and subjective movement of objects in the visual field, known as oscillopsia, horizontal nystagmus, and an abnormal gait with balance issue toward the affected side. Hearing loss is not seen with vestibular neuritis.
Dix-Hallpike testing is not useful in the diagnosis of vestibular neuritis due to patients with this diagnosis not having episodic dizziness symptoms that are triggered by position or positional changes.
As the vestibular system compensates, the patient's vertigo symptoms will slowly resolve over time (usually over a few days). In around half of patients, if nerve damage occurs, resolution may take up to several months. Dizziness symptoms may recur during recovery which indicates an interference with compensation. If symptoms do not become progressively shorter, another diagnosis should be considered.1
Regarding treatment, assurance, explanation of symptoms, and patient education are crucial. Additionally, treatment of symptoms with vestibular suppressants for the first few days can be trialed. Medication options include meclizine, metoclopramide, prochlorperazine, dimenhydrinate, and promethazine. Other options such as diazepam and lorazepam can be tried, but with extreme caution due to their high risk of abuse. These medications should not be used more than three days due to their effects in blocking central compensation. If nausea or vomiting occur with a patient's dizziness, they can be treated with antihistamine and antiemetic therapies. Systemic corticosteroids and antiviral therapies have been shown to have insufficient evidence of benefit or are ineffective, respectfully, and should not be prescribed in these cases.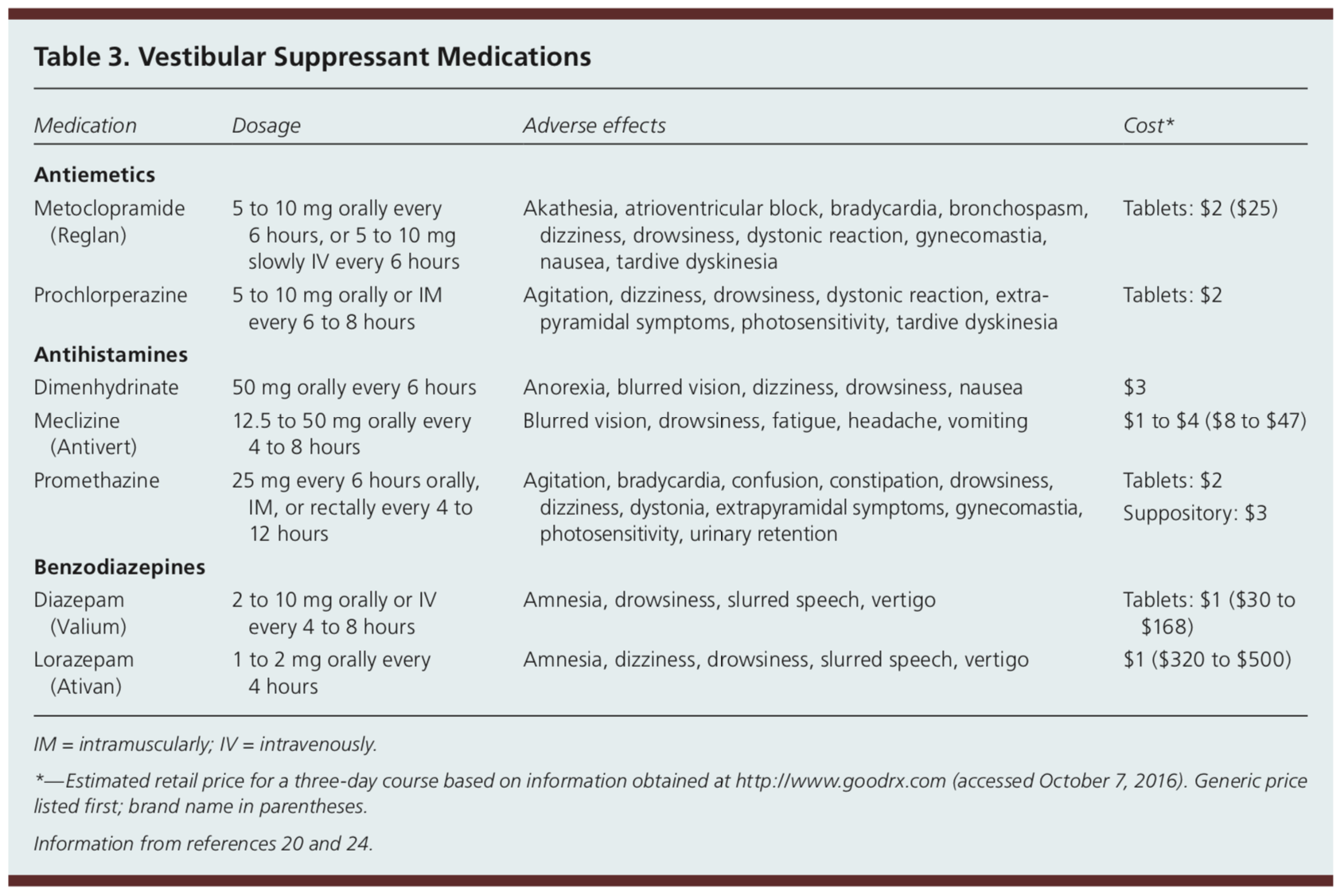 The prognosis of vestibular neuritis is excellent in the overwhelming majority of cases, however, in around 15 percent of cases, BPPV may occur after resolution of vestibular neuritis.
Meniere Disease
Meniere disease leads to dizziness with unilateral hearing loss. It can affect anyone of any age, but most commonly occurs in patients between 20 and 60 years of age. The dizziness symptoms that occur with Meniere disease can often be very severe requiring bed rest with nausea, vomiting, and balance problems. Other symptoms may include falls, headache, and worsening hearing loss during attacks of symptoms.
The underlying cause of disease in Meniere disease is believed to be due to excessive endolymphatic fluid pressure causing inner ear dysfunction; however, the exact cause is unknown. On examination patient's will often have unidirectional, horizontal nystagmus during symptomatic attacks.
Treatment of Meniere disease includes lifestyle changes with salt intake reduction to less than 2g daily, reducing caffeine intake, and limiting alcohol intake (one or less alcoholic drinks daily). Thiazide diuretics can be added on if lifestyle changes are not resolving symptoms.
Transtympanic glucocorticoid injections and gentamicin can improve dizziness symptoms. Transtympanic steroids can also improve hearing; however, transtympanic gentamicin can cause hearing loss and should only be used in patients who already have considerable hearing loss prior to use.
Vestibular suppressant medications may be used for acute attacks of dizziness; however, long-term treatment with these medications should not be used. Surgery is a treatment option for patients where their symptoms are refractory. Vestibular therapy and exercises may be helpful as well.
Central Causes of Vertigo
Central etiologies for dizziness are caused by abnormalities in the cerebellum, vestibular nuclei, brainstem, vestibular cortex, or spinal cord. Central causes for dizziness make up around 25 percent of cases.
Common central etiologies include vestibular migraines and vertebrobasilar ischemia. Those with central pathology may present with dizziness, ataxia, and disequilibrium.
Potential benign causes of dizziness may present with more concerning findings, and a stroke may present with no focal neurologic deficits.1 CT imaging of the brain does not have sufficient sensitivity to distinguish a stroke from benign causes of acute vestibular syndromes.1 The HINTS examination, however, has high sensitivity and specificity for identifying strokes and central etiologies of dizziness.1
Episodic vertigo in those with a history of migraine headaches is suggestive of vestibular migraines, which is one of the most common causes of episodic dizziness in children. In adults, it is three times more common in women than in men and is more often to occur within the age range of 20 to 50 years.
Initial treatment of vestibular migraines is focused on trigger resolution. Stress relief with adequate sleep and exercise are recommended. Vestibular suppressant medications are helpful in resolution of symptoms. Preventative medications such as anticonvulsants, calcium channel blockers, TCAs, beta blockers, butterbur extract, and magnesium lack evidence from well-designed randomized clinical trials to be recommended. Therefore, if these medications are initiated for vestibular migraines, it should be done so under the care of a specialist.
Vertebrobasilar ischemia is a final etiology of central causes of dizziness that we will talk about today. The blood supply to the inner ear, cerebellum, and brainstem comes from the vertebrobasilar system, and if there is any blockage of any of the artery branches, this can lead to dizziness or vertigo.
Diagnosis is often based on the history and physical examination which shows symptoms such as diplopia, weakness, dysarthria, and clumsiness of arms and legs. Dizziness is often the presenting symptoms in around half of patients, and fewer than half of patients will present with any associated neurologic abnormality on examination.
Treatment may include antiplatelet therapy with medications such as aspirin or clopidogrel as well as intensive management of risk factors including, hypertension, hyperlipidemia, diabetes, and smoking.
I hope last week and today's article have given you some tools to aid in the evaluation, testing, and diagnosis of various causes of dizziness. The chief complaint of dizziness if often time-consuming to properly evaluate and workup. Just as I have said in many articles in the past, medicine is not black and white, and the evaluation of dizziness is included. Until next time!
Resources
Am Fam Physician. Dizziness: Approach to Evaluation and Management. 2017;95(3):154-162. Copyright © 2017 American Academy of Family Physicians.

UpToDate. Approach to the Patient with Dizziness. Accessed: August 15, 2018.