Vitamin B12 Deficiency
-
The podcast above and article below share different information. Listen and read to both to get the most out of this post!
-
In the past, we discussed macrocytosis and macrocytic anemia regarding the evaluation, diagnosis, and possible etiologies for these laboratory findings.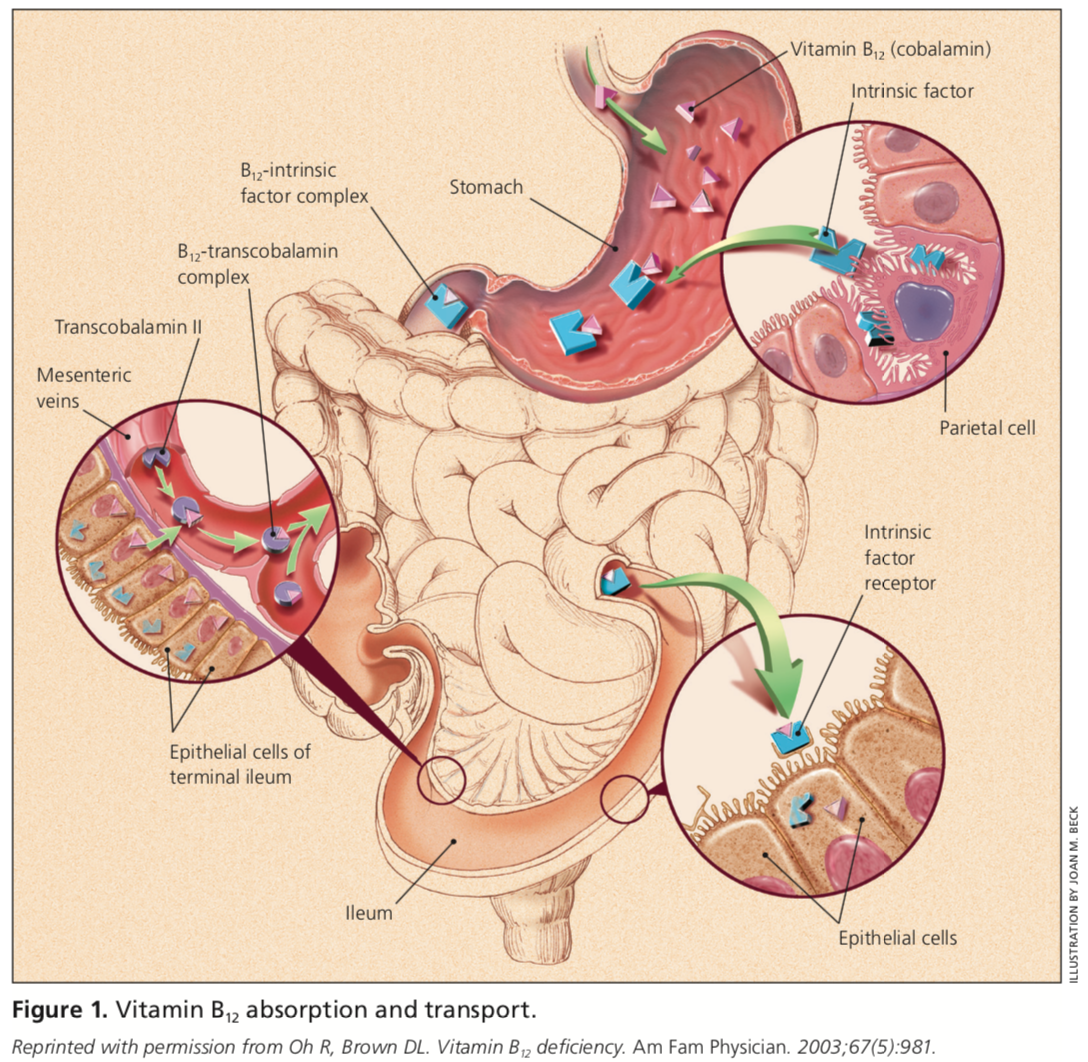 Underlying Causes of Macrocytosis
Today, we will be discussing a common underlying cause for the finding of macrocytosis or macrocytic anemia, which is vitamin B12 deficiency.
Vitamin B12 is a water-soluble vitamin that we often acquire through consumption and absorption of dietary items, such as meats, dairy, and fish, as well as other options that are vitamin B12 fortified such as supplements or cereal. Vitamin B12 is customarily absorbed in combination with intrinsic factor which is made by the parietal cells in the stomach lining, then the vitamin B12/intrinsic factor combination is absorbed at the level of the terminal ileum.
Vitamin B12 plays many vital roles in the typical day to day functions of the human body. It is essential for:
Red blood cell formation
DNA synthesis
Neurologic function
Biochemical reactions in the body including;

the conversion of methylmalonic acid to succinyl coenzyme A
the conversion of 5-methyltetrahydrofolate to tetrahydrofolate
and the transformation of homocysteine to methionine
Prevalence & Risk Factors
In the U.S. the prevalence of vitamin B12 deficiency is around 6 percent in those patients who are younger than 60 years; however, this increases to up to 20 percent in those who are older than 60 years of age. The location of where a patient resides as well can contribute to the likelihood of deficiency, where those who live in Latin American countries have a 40% chance, in Kenya 70%, and East Indian countries a 75% risk of being deficient.
Risk factors for having vitamin B12 deficiency are listed in Table 1 below.
All of the following increases the risk of deficiency formation:
Patients who have diets with scant amounts of vitamin B12
Pernicious anemia
Prolonged use of medications that reduce stomach acid production (such as PPI's)
Metformin use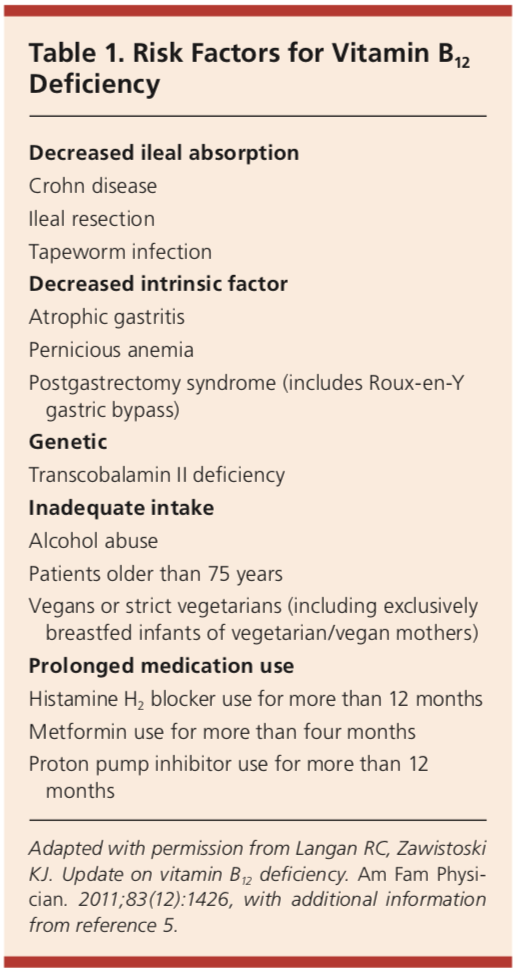 A multicenter study found that patients taking a minimum of 850 mg of metformin three times daily had an increased risk of being vitamin B12 deficient. This deficiency becomes more likely the longer that the patient has been on metformin therapy.
Severity of Symptoms
Vitamin B12 affects many systems within the body, and symptoms and complications of deficiency can range in severity from mild fatigue to neurologic changes or complaints. Thankfully, our liver holds a large storage reservoir of vitamin B12 which can delay deficiency from occurring for up to 10 years!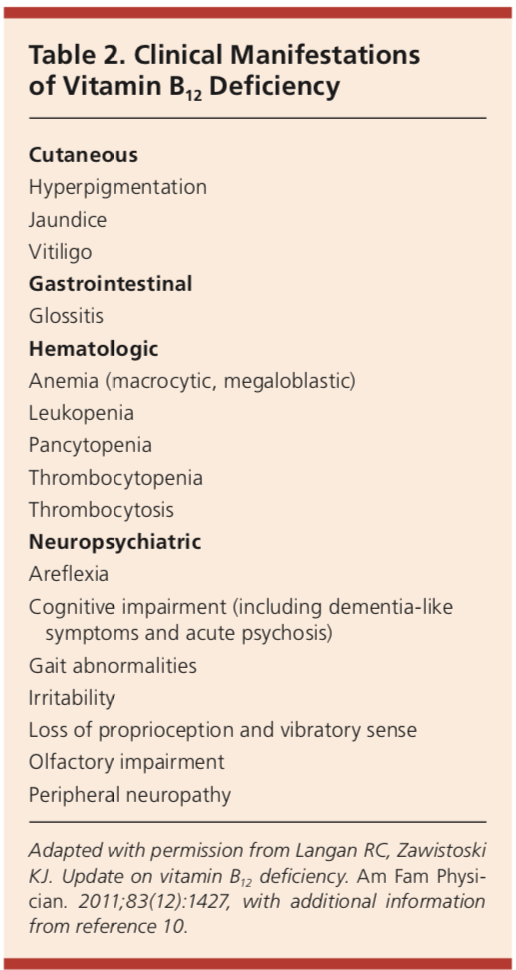 Clinical Manifestations
If deficiency occurs, bone marrow suppression is commonly seen where all cell lines can be affected with megaloblastic/macrocytic anemia being one of the most common manifestations. The subsequent abnormal blood cell production can cause other laboratory changes including: an increase in haptoglobin levels, elevated reticulocyte levels, and an increase in lactate dehydrogenase (such as what you would see in a hemolytic anemia).
Symptoms of vitamin B12 deficiency can be very broad.
These may include:
Fatigue
Skin pallor
Palpitations.
Other symptoms such as skin changes
Infertility
Glossitis
Neurologic changes occur due to demyelination and can present with
Peripheral neuropathy symptoms
Loss of vibration and proprioception sensations,
Diminished reflexes.
Neurologic changes can be transient; however, if neuronal damage or death occurs in the spinal cord changes may be permanent.
Dementia-like changes can be seen in more severe and chronic cases of vitamin B12 deficiency.
Data has shown that there is an inverse relationship between the severity of macrocytic anemia and the stage of neurologic impairment.
B12 Deficiency During Pregnancy
If a woman is vitamin B12 deficient during pregnancy, this can cause complications as well, including:
Neural tube defects
Failure to thrive
Ataxia
Hypotonia
Developmental delay
Anemia.
Women who are at a higher risk of deficiency should receive vitamin B12 supplementation during pregnancy and breastfeeding.
There is no recommended screening for patients who are at average risk for vitamin B12 deficiency. Those patients who are at a higher risk or those who have symptoms of vitamin B12 deficiency should be tested.
Laboratory Testing and Evaluation
Recommended lab testing includes a CBC and serum vitamin B12 level. If the results on the vitamin B12 is less than 150 pg/mL, this is considered deficient. In patients who have alcoholism, cancer, or liver disease, vitamin B12 levels can be falsely elevated.
In those patients who have a borderline vitamin B12 level, but have symptoms of deficiency, or lab findings on their CBC of macrocytosis a methylmalonic acid (MMA) and homocysteine test should be completed. Both MMA and homocysteine levels can be elevated in patients with vitamin B12 deficiency.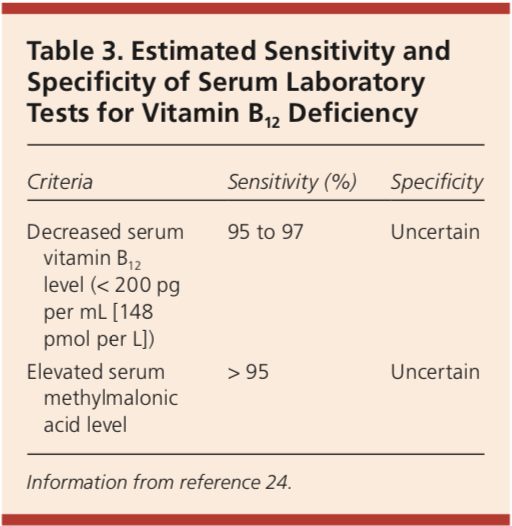 Pernicious Anemia
Pernicious anemia is a manifestation of chronic gastric of an autoimmune etiology. In this diagnosis, the immune system attacks the parietal cells of the stomach or intrinsic factor that is being released. This leads to decreased absorption of vitamin B12, because as we know the complex of vitamin B12/IF is needed for absorption of vitamin B12 in the terminal ileum (therefore no IF, no B12).
Patients with this diagnosis will often have asymptomatic gastritis before gastric atrophy, around 10 to 20 years later.
The first lab finding will often be iron deficiency anemia
Then vitamin B12 deficiency - due to pernicious anemia that can often occur up to 20 years after the iron deficiency is found on testing.
Those patients who have laboratory evidenced vitamin B12 deficiency without risk factors, dietary cause, or malabsorption cause should be tested for pernicious anemia. This is completed by ordering an anti-intrinsic factor antibody level.
If this antibody testing is normal and you are still quite concerned for pernicious anemia, then a serum gastrin level can be completed. If this is elevated, then this can be consistent with pernicious anemia. The Shilling test used to be diagnostic for pernicious anemia; however, this is no longer available in the United States.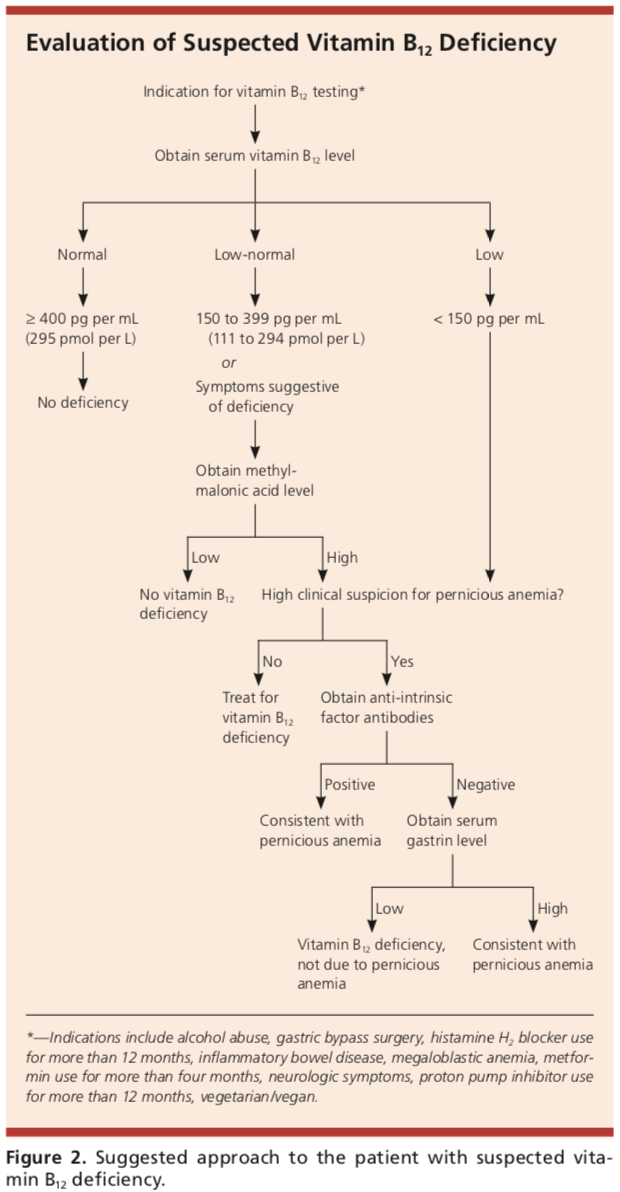 Treatment
Vitamin B12 deficiency can be treated with IM injections of cyanocobalamin or oral vitamin B12 therapies. Around 10 percent of the injected 1 mg of cyanocobalamin is absorbed, which results in a quick replacement in those patients with severe deficiency or neurologic symptoms or findings on examination.
Treatment frequency and duration is based upon a patient's symptoms and laboratory findings. If a patient has neurologic symptoms injections should be given every other day for up to three weeks. If no neurologic symptoms are present, then injections should be given three times per week for two weeks.
Another regimen may be giving an injection once weekly until the deficiency corrects, then once per month or every other month.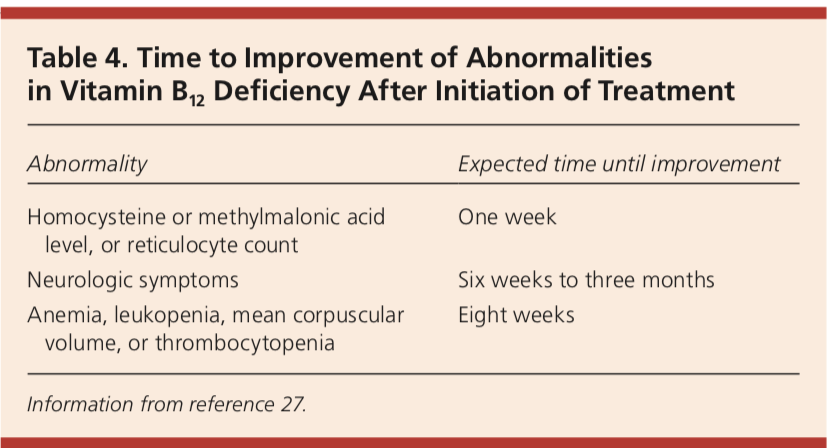 Oral replacement with 1-2 mg daily has been found to be equally effective at resolving anemia as parenteral dosing; however, serum MMA does not correct with oral treatment for vitamin B12 deficiency. It is recommended for patients that have severely depressed levels or malabsorptive syndromes to undergo parenteral treatment, whereas those with mild disease can be treated with oral replacement.
Prevention
Prevention is an important topic for a myriad of diseases in healthcare. This is no different for vitamin B12 deficiency. The recommended dietary intake of vitamin B12 in adult males and nonpregnancy females should be 2.4 mcg daily, whereas in pregnant females this should be increased to 2.6 mcg daily. The average intake of those who live in the United States is around 3.4 mcg daily.
Those patients who are older than 50 years might not absorb vitamin B12 near as well as their younger counterparts. Therefore, those older than 50 years should consume foods that are fortified with vitamin B12.
Patients who are strict vegan should be counseled and supplemented adequately with vitamin B12 fortified foods. The American Society for Metabolic and Bariatric Surgery has made recommendations that in those patients who have undergone bariatric surgery should take 1 mg of oral vitamin B12 daily indefinitely.
Resources
Am Fam Physician. Vitamin B12 Deficiency: Recognition and Management. 2017;96(6):384-389. Copyright © 2017 American Academy of Family Physicians.
Treatment of Vitamin B12 and Folate Deficiencies. Accessed: March 29, 2019.
Clinical Manifestations and Diagnosis of Vitamin B12 and Folate Deficiencies. Accessed: March 29, 2019.